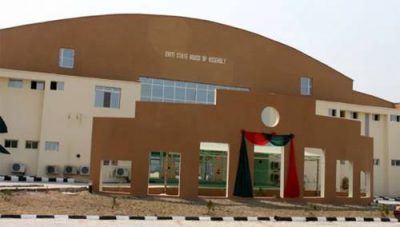 Kola Oluwawole, Speaker of the Ekiti State House of Assembly, has announced the indefinite shutdown of the state assembly over alleged invasion by armed policemen.
The Speaker made the announcement at a press briefing on Thursday, in Ado Ekiti, the capital city of Ekiti State.
Oluwawole and 17 other state lawmakers claimed that two units of heavily-armed riot-policemen stormed the assembly on Wednesday without an official request.
They accused the All Progressives Congress (APC) members of the house of masterminding the invasion.
He claimed the signature of the clerk was forged and used in requesting for armed security officials.
"This is strange in a democracy… for lawmakers to wake up and see unauthorised Police deployment in the legislative arm of government.
"On Wednesday at about 9pm, Police authorities deployed two detachments of heavily-armed policemen to the premises of the Assembly. This came to us as a shock because we are in a recess and such action was unwarranted.
"Before now, we had it on good authority that Police were planning to provide cover for the three defecting lawmakers to perpetrate violence in the Assembly and cause confusion, and also to endanger the lives of our staff.
"As we speak, the lives of our people are no longer safe, because the Police and APC thugs have laid siege to Ekiti Assembly and under this circumstance, our staff are no longer safe and we declare indefinite closure of the Assembly pending the time security can be guaranteed.
"We have not recovered from the harassment and abduction of our members by Police during the July 14 election. But let me say expressly that such strange police deployment was unsolicited, unwarranted and ultra vires." (SaharaReporters)