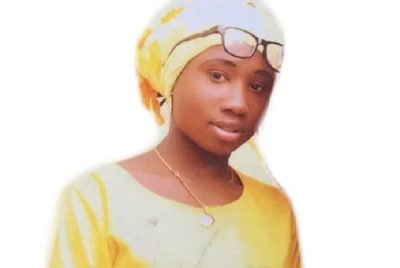 Mrs Aisha Wakil, popularly known as Mama Boko Haram has stated that Leah Sharibu has not given up her Christian faith.
Wakil made the disclosure while announcing that she's working with the International Committee of Red Cross (ICRC) to rescue Leah Sharibu.
The captive is the only Christian among the 112 kidnapped by Boko Haram insurgents from Girls Technical College, Dapchi, Yobe state.
Sharibu was held back for refusing to denounce Christianity, while the others were later returned home to their parents by Boko Haram.
Wakil told newsmen in Maiduguri on Monday, "I am really worried about Leah and her freedom from Boko Haram is very important to me.
"Leah did not renounce her religion, that I can assure you and we shall do everything with both the government and the international organisation to ensure she regains her freedom just like her colleagues that were reunited with her families."
She added that the her foundation would also partner with ICRC to empower widows and rehabilitate underage girls engaging in commercial sex activities.
Mama Boko Haram, an Igbo, was a member of the Dialogue and Peaceful Resolution Of Security Challenges Committee in the northern region set up by President Goodluck Jonathan.
She was instrumental in efforts at restoring peace to the Northeast and assisted in the release of some abductees by the Boko Haram sect.
Parrotnig