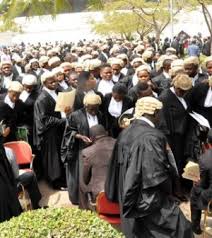 The Legal Practitioners Disciplinary Committee, LPDC, has disbarred seven lawyers and suspended 12 others over alleged involvement in various acts of professional misconduct. Nigerian Body of Benchers made the revelation while admitting a total of 1,550 new lawyers into the Bar.
Among the new lawyers called to Nigerian Bar, yesterday, was the controversial hijab-wearing Firdausi Amasa who was denied the honour last year over what the legal body classified as improper dressing.
The young female lawyer from University of Ilorin was disallowed to perform the ceremony on December 12, 2017, after she declined to remove her hijab on the premise that doing so would amount to a violation of her rights.
Her insistence on wearing her lawyers' wig over the veil, made the legal authorities to sideline her from partaking in the Call-to-Bar ceremony that took place at the International Conference Centre, ICC, in Abuja. Firdausi's appearance was said to have violated the dress code set by the law school. Meanwhile, though the legal body eventually rescinded its earlier position on hijab, it, however, ensured that Firdausi's name was the last on the list of new lawyers admitted into the Bar, yesterday.
In his address on the occasion, Chairman of Nigerian Body of Benchers, Alhaji Bashir Dalhatu, said the LPDC would not hesitate to discipline any lawyer whose conduct negated the sacrosanct standards of the profession.
He said:
"The Legal Practitioners Disciplinary Committee has been carrying out its mandate in a just and fair manner without giving room for compromise, affection or ill-will. From January to July, 2018, seven lawyers were disbarred, 12 were suspended (ranging from one year to three years) and one was admonished.
"You are, therefore, advised to be of good behaviour and abide by the ethics and traditions of the profession to avoid being brought before the committee.
On his part, Director General of Nigerian Law School, Prof. Isa Hayatu Chiroma, disclosed that the 1,550 new lawyers were candidates that succeeded in the April 2018 Bar Final examinations, as well as 12 candidates from previous Bar final examinations.
He said the school had in a bid to address complaints on the low quality of lawyers in the country, entered into collaboration with law faculties and other stakeholders in the legal profession, as well as embarked on aggressive review of its curriculum to include teaching of ethics