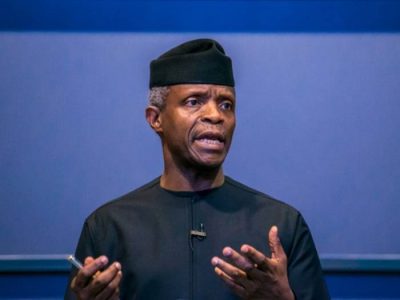 Vice-President Yemi Osinbajo saturday in Dubai, United Arab Emirates (UAE), disclosed that the number of mobile telephone subscribers in Nigeria has risen to 163 million barely 17 years after its advent.
Making this disclosure while addressing a professional business summit 2018 with the theme, "Exploring Investment Opportunities in Nigeria and the UAE," Osinbajo said the development shows that the ICT sector had unlimited potential to produce $88 billion digital economy in 2028.
While showcasing Nigeria's promising investment potentials, Osinbajo said Aliko Dangote's 650,000 barrel per day capacity is worth over $16 billion.
"With over 163 million mobile phone subscribers, 60 per cent of them actively on the internet and 23million on Facebook, you will agree with me that our ICT sector is one of limitless potential yearning for more investments to propel the sector to an $88billion digital economy over the next 10 years.
"Consequently, we have seen the emergence of dynamic pan-African investors, who on account of their track records are even able to borrow commercially cheaper than Governments. Aliko Dangote's investment in a 650 thousand barrel a day refinery, subsea pipeline and fertilizer plant is in excess of $16billon," he said.
Osinbajo also told the gathering that new foreign investment has risen from $908.2 million in the first quarter of 2017 to $4.1billion in the third quarter 2017, representing over 150 per cent growth from the first quarter of 2017 adding that fresh capital inflow in 2017 stood at $12,228,24billion, thus implying a growth of 138.6 per cent in 2017.
Disclosing that BUA, a cement and sugar conglomerate, has in the past two years, invested over $2billion in cement factories and equally enhancing a sugar facility, Osinbajo added that the country had conceived the idea of special economic zones to serve as the platform for the provision of all required infrastructure and regulatory facilitation to deliver expedited productivity adding that the nation's oil and gas free zones already have over $20billion investments.
He added: "Again, these zones allow 100 per cent foreign ownership and 100 per cent repatriation of capital and profits. A shining example is the Lagos Deep Offshore Logistics Free Zone, (LADOL) which has invested already over $600million in private investment and outlined plans to attract more investments up to $5billion into the country through its industrial free zones.
"In broadband infrastructure, for example, MAIN ONE company, founded by Nigerian-born Funke Opeke, launched West Africa's first privately owned submarine cable barely seven years ago. The cable was built over a 2-year period and the initial investment of $240million was financed entirely by African investors, and the project broke even in just 2 years after launch."
Furthermore, the vice-president who said Flutterwave invested $10 million in the country, added that Konga, an online shop, invested impressive $25million, which he described as the second biggest amount raised by an African start-up business in Africa, adding: "Andela, another of our leading tech brands attracted equity investment from Facebook's Mark Zuckerberg."
Further disclosing that Lagos witnessed over $100million local and international venture capital fund investments in 2017 alone, Osinbajo described the Lagos Mega City project "as a shining example of proven successes and great potential of the ICT sector in Nigeria, with its high quality and relatively lower cost talent, as well as its strong community of incubators, accelerators and development communities." (Thisday)