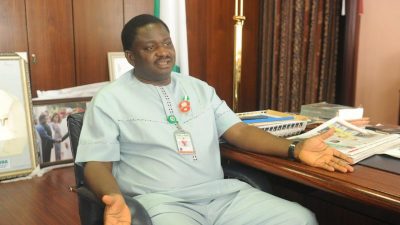 Femi Adesina, spokesman to President Muhammadu Buhari, says his daughter "almost cried" over some "misconceptions" she reads about him online.
In an
interview with THISDAY
, the presidential aide said most of the things said about him on social media are untrue, rather "fabrications" and "twists".
"I remember my daughter who was in the university then and she called me and was almost crying and said 'all these things I read on social media about you, this is not you," he said.
"I then I told her 'since you know that it is not me, then let your heart be at peace knowing that it is not your daddy, it is a creation of the social media.'"
Adesina said his job as Buhari's spokesman gives him a "sense of fulfillment" because the president is "making a difference" in the country.
He also said his joy working for Buhari is that "a lot of Nigerians are with him (the president)."
"For me, it gives me a sense of fulfillment that I'm working with a man that is making a difference in Nigeria," he said.
"Everyday, I take the challenges as they come. Don't mind the vocal minority who have access to social media and traditional media and say all sorts of things. They are a vocal minority but the majority of Nigerians are with him, and the polls will show it."
Adesina was one of the first persons Buhari appointed to work with after winning the 2015 elections.
He has come under criticisms on several occasions for defending some actions and policies of the current administration perceived by some as improper.
However, he said he is able to defend the actions of the Buhari administration because he has an "inside knowledge" of happenings.
"What I've noticed is that some people do not like people who can hold their own. When you can hold your own, they say its arrogance. I think it is just that I can hold my own," he was quoted as saying.
"Anything that you come with, I can always defend because I am part of the administration and I have inside knowledge.
"So, if you come with something that is not true, I can always debunk it. If anybody sees that as being arrogant or cocky, I can't help it. But 'cocky and arrogant' I don't think so. I am not."