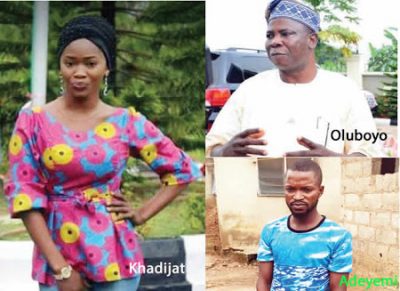 Ex-Deputy Governor of Ondo State, Alhaji Lasisi Oluboyo, is the father of Khadijat allegedly killed by her boyfriend, Adeyemi Alao, in Akure, the Ondo State capital. He talks about the gruesome murder of his daughter with PETER DADA
What can you tell us about your daughter's death?
All I can say is that the boy killed her for ritual purposes. My daughter was not a wayward girl. She was not a girl that was not well-fed. We made everything comfortable for her. I know that she didn't go to his house on her own volition. That boy must have hypnotised my daughter before she could leave her school to head for his house.
What made you say that she was used for ritual purposes?
The boy dug a grave in his room, buried her and placed a mattress on the grave and was sleeping on the grave. My daughter was not found under the bed frame because the boy had no bed frame. When we tried our best to find her, we organised prayers. When we finished with the prayers, the heat was on him and he said he wasn't able to continue with the ritual.
He rushed out and confessed to his immediate sister. He told her what he did and asked her to bring a sack. It was then that the sister rushed to their father to inform him of what her brother did. Their father immediately invited the police and the boy was arrested.
Your daughter and her alleged killer were said to be lovers. Were you aware that they were dating before the incident?
From what the father of the boy told us, there was no doubt that they once had a boyfriend and girlfriend relationship. They met at the Adeyemi College of Education, Ondo.
When did you notice that she was missing?
We got to know that Khadijat was missing on Monday, July 2, 2018. Somebody called to tell us that she was missing and that was when we started finding her. We got in touch with her friends in school. Her closest friend told us that they received lectures together on Thursday and took the same motorcycle to their houses. On Friday, they had no lecture and when the friend got to the lecture room on Monday and did not see her, she stared calling her mobiles.
Also, I sent money for her feeding on Friday. The usual thing is that any time I sent her money and she got an alert, she would immediately call to thank me. But on that day, there was no response from her. I told her mother and she also started calling her mobiles. The phones were switched off. On Monday, we continued calling her numbers and it was still the same situation. Later, the phone rang, somebody picked it and we heard voices at the background before it was switched off.
What happened afterwards?
Later, we got a text message explaining that the mouthpiece of the phone was bad and that she would call when she changed the SIM card to another phone. With that, we thought that everything was settled. We were waiting anxiously for the call which she promised to make after changing the SIM to another phone.
Her friend also called us to say that she had been calling her phone.
A text message was sent to her friend probably by the same person who sent us a text to say that she was on her way to her place. It was later I got to know that she came to Akure to meet that boy.
Did you suspect anything when you didn't get any response from the person who sent you a text message from her phone to say she would call back after changing the SIM to a new phone?
My daughter had four numbers. She had two phones – one with two SIM cards and the other with one SIM. The old SIM card she was using was kept in her bag. We started tracking the numbers. When we tracked the first numbers, they went off immediately after roadblock at Owo. The second number went off after Oba-Akoko. That gave us the impression that she was returning to school. We also had it on good authority that she came to Akure and that made us believe that she was returning to school. When they sent another message to us that we should wait for a negotiation team, to create an impression that she was kidnapped, we discovered that it was the numbers in her bag that they used to send the message to us. It was a perfect arrangement to buy time.
What steps did you further take to know your daughter's whereabouts after it became clear to you that she was not safe?
We started searching for her frantically. That was when the father of the boy called me to say that he was Adeyemi's father. He said that my daughter came to their house on Thursday and left Friday morning. He said my daughter used to come to his house in the past but stopped suddenly. He added that she was the type of girl he wanted his son to marry. That was when I told him that we were not talking of marriage at that time but that we were searching for the daughter whom he was talking about.
The man started praying. The boy also talked on the phone to say that my daughter came to their house on Thursday and left on Friday. Like I said earlier, It was later I got to know that she came to Akure to meet that boy.
How do you want the matter handled?
For me, I don't want anything. I have surrendered everything to God and I strongly believe that God's judgment is more than human verdict. However, the danger is that if you allow the boy to go scot-free, he would do it again. (Punch)