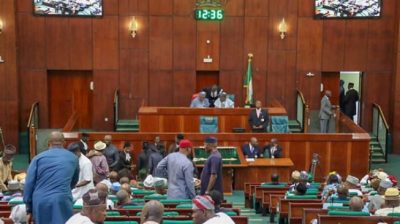 The national assembly has sent the new amendment to the electoral act to President Muhammadu Buhari for assent.
On March 13, Buhari refused to give assent to the amendment to the act which was initially sent to him.
The bill had a section which reordered the sequence of polls ahead of the 2019 elections.
The president explained that amending section 25 of the electoral act would infringe on the "constitutionally guaranteed discretion" of the Independent National Electoral Commission (INEC) to organise, undertake and supervise elections.
After Buhari rejected it, the national assembly introduced another bill to amend the act.
The bill was ultimately dropped.
Abdulrazak Namdas, spokesman of the house of representatives, later told journalists that a fresh bill different from the electoral act would be introduced to change the sequence of election.
A top national assembly source told TheCable on Tuesday that the controversial aspects of the bill had been removed.
The source explained the bill, if asserted to, would make the 2019 elections "more free and fair".
"The electoral act amendment has been sent to the President for assent. The controversial areas have been removed," the source said.
"The national assembly did this to ensure that the relevant provisions are in place to make the 2019 elections are more free and fair."
The bill sent to the president now has new subsection which provides that when smart card reader fails to accredit voters, the election in that unit would be cancelled and rescheduled within 24 hours, among others. (The Cable)