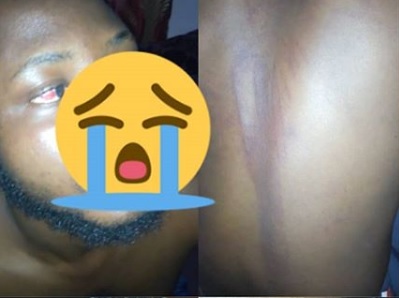 As thousands of Nigerians especially the youths continue to call for the scrapping of SARS from the Nigerian Police, a singer has shared his brutal experience in the hands of the officials.
Fast-rising Nigerian singer, Dollarboi, has taken to his Instagram page @dollamachine, to narrate his harrowing experience in the hands of SARS operatives of the Nigerian Police Force in Lagos.
Below is how he shared his heart-wrenching SARS brutality ordeal;
***************
#NGPOLICE #BRUTALITY FOR THE RECORD: I was extorted, harrassed & brutalized by men of the #NgPolice & so called anti-cultism raiding the yanaworo/bariga/ogudu axist of Lagos state in disguise as #SARS officers.
(I dont want to go into details) we got to the station and they later verified I am legit and my source of income is legit (selling my musical content on digital music platform as independent artist & all I got was sorry we mistook u for the bad boys & was later released without bail bond in compensation (meanwhile they whole denied their actions to their boss or head of the division) so I dont create more scene.
My questions are: what is I was not a known person? Wat if I had nobody to reach out to (my special appreciation to everyone that responded timely). is this the right way for #NGPolice to carryout investigation? Why are the not using a uniform with name tag to recognize who they are? Will they fight crime by assaulting innocent citizens going about their regular hustle in this bad economic status of the country?
When did it become a crime for the young once to shine? How are the youth the leaders of tomorrow if the leaders of today are killing us. @ruggedybaba @instablog9ja pay attention to this axis pipu are being wrongly accused & detain 4 notin. I still tank God for my life. #reformNGPolice #EndSars #endyouthbrutality."