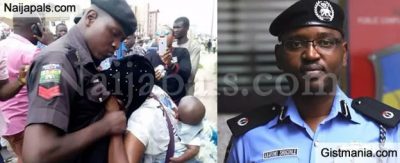 So on Friday, the video footage of a Ghanaian police officer assaulting a nursing mother in a bank, made the rounds online. (ICYMI)
The Ghanaian police, Fredrick Amanor, was captured in the video wrestling with and ruthlessly assaulting the nursing mother in Midland Savings and Loans bank.
The video of course has stirred up mixed reactions online as people are exasperated over the action of the officer who didn't even consider the child that was in the arms of its mother.
As people fire at Fredrick, with most of them pushing that he's brought to justice, Nigerian Assistant commissioner of Police, Yomi Shogunle also reacted to the saga.
In his own belief, the Nigerian police will never do that to its citizens… He wrote in a tweet,
Quote
WE (@PoliceNG) WILL NEVER DO THIS IN NIGERIA!
A Ghanaian policeman beating a nursing mother in Rambo-style inside a banking hall in Accra today.
Hope #EndSARS people can see the real police brutality.
@PoliceNG_PCRRU
As they saw his tweet, Nigerians were quick to remind him of a quite akin situation that happened in Ibadan a while ago.
The story was a viral one which was reported by an eyewitness as thus,
Quote
This is Nigeria where policeman in uniform beat married woman even with her child on her back just because he was caution not to cause accident because of #50.
Hmmm how are we sure he is responsible at home, his wife will be punching bag, why will people like this will be in service. He ought to be in asylum Government please look into this!
This happen at mokola in front of Adamasigba. Nigeria police officer, kehinde Agbede mokola division..
With evidence to prove, Nigerians found the ACP's tweet as void… Some reactions below