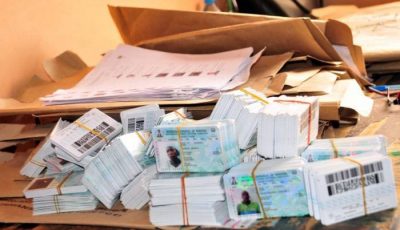 The Independent National Electoral Commission (INEC) has said that more than 280,000 eligible voters in Ekiti State still hadn't collected their Permanent Voter Cards (PVCs) as of Wednesday, nine days to the July 14 Ekiti State governorship election.
Adedeji Soyebi, the INEC National Commissioner, who would be supervising the election, made the disclosure during a meeting with journalists in Abuja.
Soyebi said that the 280,000 persons would be barred from voting on Saturday if they refuse to claim their PVCs.
He also revealed that over 630,000 voters who had collected their own PVCs would be participating in the election.
According to him, 35 political parties are fielding candidates, while there are 913, 334 registered credible voters in the record of the INEC.
"About 630, 000 PVCs have been collected as of Wednesday, which means we have about 280, 000 uncollected in Ekiti," he said.
"What this means is that out of the 913, 334 registered voters, about 630, 000 are eligible to vote. As usual, a few months to the election, we devolved registration to the registration centres. All the PVCs that need to be collected are already in Ekiti."
Soyebi added that 11, 000 ad hoc workers, comprising members of National Youth Service Corps (NYSC), had been trained and would be deployed for the election.
He assured the public that the electoral body was ready to conduct a free and fair governorship election on Saturday, and urged the participating political parties in the contest to warn their candidates against heating up the polity.