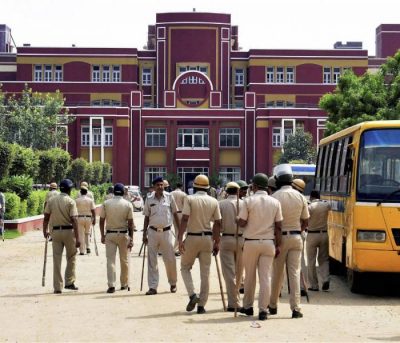 18 men have been arrested for raping an 11-year-old school girl for several months in an apartment complex in the eastern Indian city of Chennai.
The hearing-impaired girl was allegedly sedated and given spiked soft drinks by the accused, which include the building's security guard and lift operator.
The men, aged between 23 and 66 years old, made videos of the crime, blackmailed the girl and threatened her with dire consequences if she approached the police.
The girl's parents lodged a complaint with the city police on Sunday after the girl narrated her ordeal to her elder sister.
"We arrested all the 18 accused for the heinous crime," a local police office said on condition of anonymity.
"They sexually assaulted [her] multiple times in a storage room on the building terrace over the past seven months."
The accused appeared before a court that sent them to jail pending trial.
They have been charged under the Protection of Children from Sexual Offences (POCSO) Act.
The Indian government recently approved stringent punishments for sexual violence against children, including the death penalty for those convicted of raping girls younger than 12 years.
The decision came amid spiralling outrage over the rape and killing of an eight-year-old girl in Jammu and Kashmir and several other cases of sexual assault involving minors in recent months. (NAN)