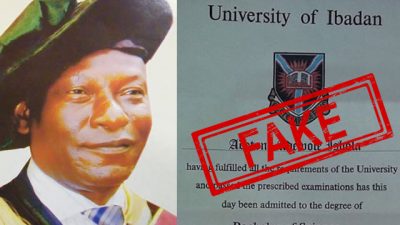 The Igbajo Polytechnic, Igbajo, Osun State, has sacked its Acting Rector, Akinola Olaolu, for allegedly using a fraudulent PhD certificates to get the job.
This was disclosed at the weekend by the Chairman of the Board of Trustees of the institution, Chief Olajide Oyewole, while addressing pressmen over the scandal.
Oyewole said that the decision was reached after a meeting of the polytechnic's governing council and board of trustees last Wednesday, following a confirmation from the University of Ibadan that the embattled Olaolu did not obtain any PhD certificate from the school where he had claimed to have bagged the PhD.
He added that Olaolu's certificate saga began when the report started trending in a session of the media, prompting the polytechnic management to establish investigations into the authenticity of the certificate.
He insisted that having confirmed that the certificate did not emanate from the University of Ibadan, the governing council of the polytechnic decided to sack the rector.
"The emergency meeting of today was called in response to the ceaseless report from a section of the press and around the community on the authenticity of the certificates of our Acting Rector, Mr Akinola Olaolu. In the heat of the certificate controversy, the governing council wrote the University of Ibadan to authenticate his claimed PhD certificate," Oyewole said.
He added: "The outcome of the verification from the University of Ibadan indicated that the certificate purportedly issued to him is misrepresented and therefore did not emanate from the University of Ibadan."
"The Governing Council met on Wednesday 4th July, 2018, on the letter received from the University of Ibadan and decided that the services of Mr Akinola Olaolu will no longer be required in Igbajo Polytechnic.
" However, we commend the efforts and contributions of the acting rector, while he was with us."
Oyewole, however, noted that Igbajo Polytechnic had zero tolerance for fraud, corruption, indiscipline and other illegal acts capable of putting its integrity and that of its products in question.
Sunday Sun gathered that Olaolu reportedly came to the school in December 2015 as a deputy rector when Mr Tanimowo Oke was the rector.
Having claimed to have a PhD in Economics from the UI, his coming to the polytechnic led to the exit of Mr Oke, who had a master's degree as at then.
More than eight months after his arrival, Olaolu reportedly refused to produce his purported PhD certificate as he submitted only a notification of result to get the job. (Sunday Sun)