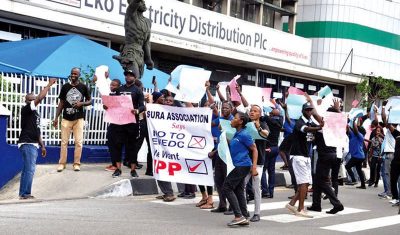 The Association of Shop Owners at the Sura Shopping Complex, Lagos Island yesterday led a peaceful protest to the Eko Electricity Distribution Company Plc (EKEDC) on the Marina, to demand freedom to patronise alternative power supply firms.
The News Agency of Nigeria (NAN) reports that protesters, who came out in black attire, carried placards with various inscriptions, chanting songs to register their grievances.
They rejected appeals for a closed door meeting between their representatives and the EKEDC management.
EKEDC Managing Director/Chief Executive Officer (CEO) Mr Adeoye Fadeyibi, later came out to address the protesters.
Chairman of the association, Mrs Bunmi Ajayi, said that they had perfected plans to purchase electricity from a private firm and wanted EKEDC to give the shop owners the approval for them to patronise an Independent Power Producer (IPP).
"Why we are here is that we are not getting any reasonable service from the EKEDC and we have, therefore, resolved away from you.
"We are here to give you a letter. It is not about disconnection, but we wrote this letter to say that we want to upgrade our panels and that you should disconnect us.
"Please do not go ahead to say they should reconnect us because we are working on our panels. We all have new panels now.
"We have this letter for you because we are not happy with your services and we should be free to choose any power distribution company of our choice.
"We are dissatisfied with your services and we don't want your services anymore,'' she said.
Responding, Fadeyibi said he appreciated the association's position but noted that there was need to follow the right approach to having an IPP.
He said EKEDC was regulated and guided by law and was trying as much as possible to solve the problems of power generation and distribution.
"There is no intent to cause you any undue stress. Do not let anybody tell you that you cannot work within the regulator. We all work within the rules and regulations of the regulator, if there is no regulated environment, there will be chaos.
"There is a deemed network that has been assigned, within that network, we have investments made,'' he said.
Fadeyibi explained that the power from the national grid operated within a system that required synergy to work effectively.
He appealed to the association to seek information so as to make the right choices.
The EKEDC chief promised to study their letter and revert to them as soon as possible.