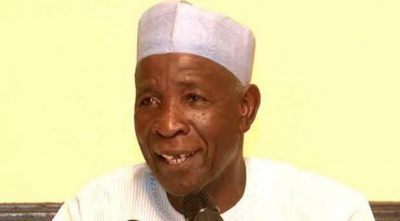 The Reformed -All Progressives Congress has asked the Independent National Electoral Commission to nullify the National Convention of the All Progressives Congress held on June 23, 2018.
The Adams Oshiomhole-led National Working Committee of the APC was elected at the said convention.
R-APC's request was contained in a letter dated 4th July, 2018, which was signed by its National Chairman, Alhaji Buba Galadima, and addressed to the National Chairman of INEC.
A copy of the letter entitled: "Request to invalidate the purported election of National Officers of the All Progressives Congress and not to recognise them", was seen by The PUNCH, in Abuja, on Wednesday.
In the letter, Galadima said he was writing the letter as a foundation member of the APC, a member of its Board of Trustees, National Caucus and an automatic delegate at its national convention.
He drew the attention of the INEC to what he said was "a purported convention" held by APC on 23rd June, 2018.
He said the convention was flawed and undemocratic and that it followed disputed congresses held at various wards, local governments and states.
He said the flawed congresses which led up to the national convention were marred with serious irregularities and manipulations to the extent that in at least 22 states, parallel congresses were held and a different set of delegates and officers emerged.
The letter partly read, "In particular the "election" of the following officers of the party was in direct contravention of Article 20(1) of the APC Constitution."
It also read, "Furthermore, in the course of the convention proceedings, many other persons purportedly withdrew from the contest for the various offices, and the convention chairman announced them as unopposed and "elected" without following any form of due process. This affected the position of the National Secretary and others."
As part of its requests tendered before INEC, the R-APC said in the letter, "We respectfully, therefore, request INEC to intervene, following precedents established over the years, to declare invalid and unlawful and not to accord any form of recognition to officers purportedly elected at the APC Convention of June 23, 2018."
When one of our correspondents contacted Galadima, on the telephone, he confirmed that he authored the letter.
He said, "Yes, I wrote the letter, it is genuine."
When contacted on the telephone on Wednesday, the Director of Publicity and Voter Education, Oluwole Osaze-Uzzi, said he was not aware of the request as he was not in Abuja.
He, however, promised to find out on Thursday.
The INEC director said, "I am not in Abuja at the moment but I can find out tomorrow." (Punch)