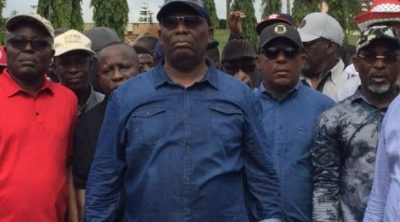 Uche Secondus, national chairman of the Peoples Democratic Party (PDP), led protesters to the national assembly on Thursday over the alleged brutality of PDP members, including Ayodele Fayose, governor of Ekiti.
Accompanied by top PDP leaders, Secondus said he led the delegation to submit a petition to the lawmakers on the alleged action of the police.
Fayose broke down in tears at a PDP rally on Wednesday, accusing an unidentified policeman of slapping and kicking him.
Secondus who was received by Ike Ekweremadu, deputy senate president, at the entrance of the national assembly, called on the leadership of the national assembly to intervene in the situation in Ekiti.
The PDP chairman said if the election is rigged in Ekiti, there would not be any election in 2019.
"Just yesterday there was a civilian coup. The Ekiti government house was seized and the governor was brutalised, detained and harmed," he said.
"Ekiti has been militarised and policed. Over 30,000 police men are in Ekiti. The citizens of Ekiti are afraid. They are traumatized. They are harrassed and they are being guided not to come out of their homes.
"We call on international community to see and watch what is happening in Ekiti, if this is the type of democracy and election they tend to conduct by the APC and INEC that means the 2019 election is under threat and we believe that if they continue in this manner and if they rig the election in Ekiti, there won't be an election in 2019.
"Your Excellency we have come so you can intervene – your oversight function of the national assembly – you have a right, the mandate is with you by the constitution to query and examine and carry out your oversight function of the executive."
Secondus said the executive and security agencies are not above the law.
The chairman said they embarked on the protest because they believe in the rule of law.
After receiving a petition from Secondus, Ekweremadu said the lawmakers would ensure the neutrality of Independent National Electoral Commission (INEC) and security agencies in the Ekiti election. (The Cable)