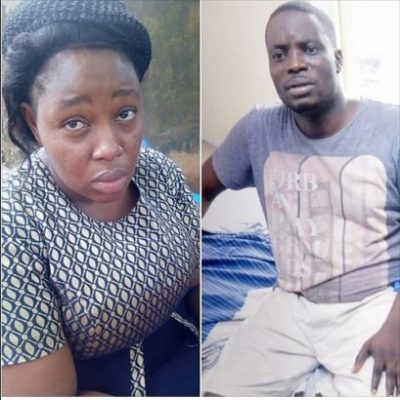 A 35-year old woman identified as Mercy Duru Ezinne, has been arrested fro impersonating a medical doctor and then allegedly administered a wrong treatment to a patient suffering from critical heart condition.
The petty food stuff trader, was consulted to treat one Hassan Olawale who, according to her, was diagnosed of having heart problem, for which she suggested heart transplant.
Meanwhile, the ailing Hassan, currently in a critical condition in a private hospital within the Government Reserved Area (GRA), Ibara, also in Abeokuta, has reportedly cried out to the effect that his condition has been deteriorating ever since the suspect began to treat him since three weeks ago, adding that he had so far parted with N400,000 to her for treatment.
Mercy spoke with Crimepuzzle. Hear her:
"My name is Mercy Duru Ezinne. I am a 35-year old mother of two, living in Oluwo area, hear in Abeokuta. I am into food stuff trading but trained as an auxiliary nurse in Aba. People in community take me for a medical doctor because I always go there to see some of my friends. I am also trying to see if I can further my education in their school of nursing.

"Three weeks ago, one of my neighbors, who is also my patient, introduced Mr. Hassan Olawale to me. Since I didn't know what was wrong with him, I referred him to a laboratory where the result revealed that he has heart problem and infection.

"I told him (Hassan) to call his doctor, one Raji, who said his heart is not too bad for transplant but needs a life support machine which will cost #10million. Out of pity, I asked the doctor if there is no other way out. His response shocked me. He retorted that if I like him, I can as well give him my heart, for which I told him I can sacrifice mine for him", Mercy narrated.
The suspect thereafter, collected N400,000 from the victim and, according to her, "bought the drugs that are sensitive to his laboratory result, such as Rocephine Injection and drip", adding that, "Though, I am being accused of giving him Zolades Injection, which works for fibroid and hormonal health imbalances. That is untrue".