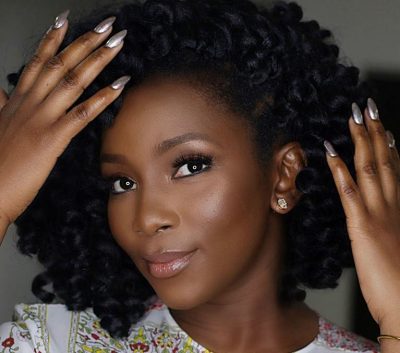 Regarded as one of the most "networked" Nigerians alive, Dele Momodu was not only let down in his presidential bid by his media colleagues but also by the entertainment industry where he had helped many to stardom, his then-campaign manager has alleged in a new book.
'Fighting Lions: The Untold Story of the Dele Momodu Presidential Campaign' is written by Ohimai Godwin Amaize, who holds the record of the youngest presidential campaign manager in Nigeria at the age of 26.
The book, currently made available to only TheCable, is due for public presentation on Wednesday, July 11, in Lagos.
Of particular interest to Momodu's campaign team was a claim by Genevieve Nnaji, Nollywood superstar, during the 2011 electioneering in which Momodu ran on the platform of the National Conscience Party (NCP).
Amaize wrote: "Many of Momodu's protégés – especially in the entertainment industry, people who he had personally touched their lives – were suddenly missing in action. Some said they preferred to sit on the fence and remained silent till the very end. It was a shocking eye-opener to the reality of Nigerian politics, especially when one decides to move from a position of an observer to an actual player on the field.
"Nollywood actress Genevieve Nnaji drew the ire of the Momodu campaign when she said: 'President Goodluck Jonathan is the first President to give the creative industry major support and the only aspirant to consider that movie artistes, fashion designers, musicians, entertainers and other creative minds deserve to grow.'"
Team Dele Momodu, the youth mobilisation arm of the campaign, immediately issued a statement in response.
The statement read: "We have no problem with Genevieve endorsing Goodluck Jonathan but it is unfair and unfortunate not to acknowledge one's benefactors, no matter the situation today. President Goodluck Jonathan might be spending government's money on the entertainment industry, but Dele Momodu has spent his hard-earned money on the entertainment industry as well. Long before D'Banj bought a car of his own, it was Dele Momodu's PA that used to drive him around in her official car bought by Dele Momodu. Even while receiving an award last year at the Ghana Music Awards in Accra, D'Banj acknowledged that it was Dele Momodu who first invited him to Ghana.
"Tee A, the comedian, became internationally known because Dele Momodu sponsored him from Africa to the Caribbean Islands. Perhaps, someone has also forgotten that Dele Momodu encouraged Banky W to return home to Nigeria when they met in Toronto, Canada. The first time Genevieve visited Liberia, it was Dele Momodu who encouraged her to go there. Does Genevieve have a clue how many Nigerian artistes, supermodels, actors and actresses Dele Momodu had spent his personal money on, from Darey Art Alade to Timaya, Eedris Abdulkareem to D'Banjetc.?
"Does she have a clue how much Ovation has promoted fashion designers like Adebayo Jones, Ade Bakare, Kosibah Creations, DeolaSagoe, Lexy Mojo-Eyes from Sweden to Milan to Paris and across the world? If anyone will forget Dele Momodu's contributions to the entertainment industry, it shouldn't be Genevieve. Where was Goodluck Jonathan in 2004 when Dele Momodu spent thousands of dollars personally and got Charter House Ghana to package the launch of Genevieve's musical career at the Labadi Beach Hotel, Ghana? This kind of amnesia is unkind."
Amaize recalled how many of Momodu's friends promised to support his presidential bid only to chicken out.
He wrote: "Some of Momodu's big friends who made donations in the millions to Goodluck Jonathan's campaign, completely forgot that our candidate was running for president. On one occasion in Abuja, Momodu ran into one of these moneybags at the wedding of former Vice-President Atiku Abubakar's daughter. He called the friend aside and said to him, 'You have been my friend long before you even knew Dr. Goodluck Jonathan. If you can donate N200 million to Goodluck Jonathan's campaign, do you mean our relationship is not worth your contribution of N1 million to my campaign?' The moneybag quickly apologised and promised to do something. Nothing came of it.
"Some were magnanimous enough to send text messages wishing Momodu 'God's grace'. We wondered why they were not wishing Dr. Goodluck Jonathan God's grace alone."