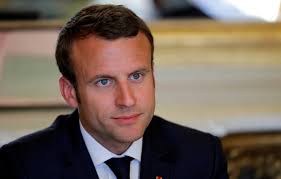 President Emmanuel Macron of France has given the reason behind his decision to visit the Afrika Shrine in Lagos.
The French leader disclosed this during a joint press conference at the presidential villa in Abuja.
Recalling his days in Nigeria, Macron said he never imagined he would return to Nigeria as president of France.
Fifteen years ago, the president of France worked as a diplomat in Abuja.
He told reporters that the Afrika Shrine stands as a symbol on the importance of African culture.
"First, because I wanted to find a good occasion to come back there. I know the place and I have some memories, I have to confess at a time that there was no president around, I hope I will not spoil the party," he said.
"First, I think that is such an iconic place for a lot of African people and African culture. And I think very often when you speak of the African culture in Europe, those who are successful in Europe and in France, which is different most of the times are not dramatically very famous in Nigeria or in Africa. And there is a bias because you know people are absolutely not the same.
"I mean Fela, Femi, Seun Kuti are obviously very famous in France and Europe, I mean they are big successes but the Shrine is a cultural hub, an iconic hub and it is very important for me first on a personal level, and that is why I want to say with a lot of humility that I recognize the importance of this place, I recognize the place of culture in this current environment."