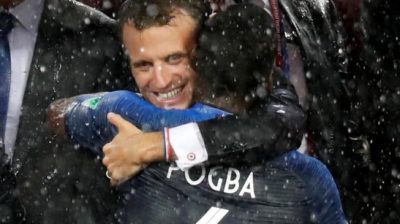 French superstar Paul Pogba says his country's 2018 World Cup win is a gift from God.
The Manchester United midfielder said it had always been his childhood dream to win football's biggest tournament.
"I still can't believe it. It's like I am dreaming," Pogba told TheCable before departing from Russia.
"It's unbelievable that we are world champions.
"I don't know if it's a premonition or not when I said at press conference that France will be world champions.
"But I believe it's God's doing and a gift from Him.
"Yes, it's been my childhood dream to win the World Cup and I can't describe the way I feel right now.
"I am happy. We are so very happy. The whole of France is happy because of this victory.
"We are proud of our achievement and I know that we made history tonight."
Pogba scored a sublime left-foot effort as Les Bleus recorded a 4-2 win over Croatia at the Luzhniki Stadium, Russia, on Sunday. (The Cable)