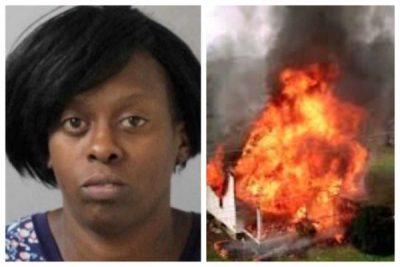 A woman who couldn't control her anger has burnt down a house, because she was not invited to a party.
The woman from Tennessee has been accused of setting fire to a home because she wasn't invited to a party.
Shameka Howse was arrested on Wednesday and charged with vandalism, aggravated arson and reckless endangerment/assault with a deadly weapon for the incident.
According to an affidavit from the Metro Nashville Police Department, Howse and an unidentified man pulled up at a house on North 29th Avenue in Nashville on June 28 and when she began screaming about not being invited to a party at the house.
When those inside the home would not let her in, she allegedly said she was going to set fire to the house, WTVF reported.
From there, police said she walked back to the truck, pulled out a jug of lighter fluid and started pouring it over the front window of the house. Police says she then took a butane lighter and lit a fire.
According to investigators, Howse and the unknown driver fled as three people inside the home tried to put it out. The flames were extinguished before any serious damage was caused, and no one was hurt.