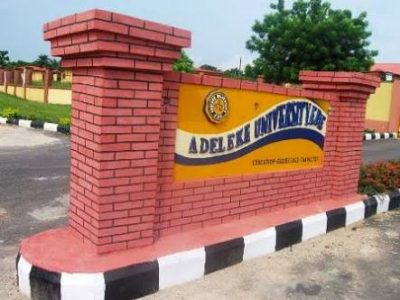 The management of the Adeleke University, Ede has alerted the police in OsunState to the threat from the Oshun Ceramic Industries Limited to demolish all buildings on the premises of the university.
The Registrar of the university, Oyerinde Oyejola, said in a letter written to the Commissioner of Police in Osun State that the university had received a letter from the Managing Director of the company, Mr Adekunle Aliu, threatening to come and demolish all the buildings on the campus.
A copy of the letter was a made available to our correspondent in Osogbo on Friday.
Aliu said in a letter written to the university that the company had concluded arrangements to remove every structure on its campus which would pave the way for the construction of chemical flood and tiles factory on the same land.
The company stated that they had contracted a firm to come and demolish all the buildings and informed the army, the police and some journalists to be present during the demolition so that the university would not stop them from carrying out the exercise.
The letter written by the university read, " On July 30, 2018, we received a letter from a company named Oshun Ceramic Industries Limited of their instruction engaging Messers J. Solat Nigeria Limited to unlawfully clear and demolish all the buildings and structures built on our land which is absolutely criminal.
"The land upon which Adeleke University is located belongs to the university and, as stated earlier, a statutory right of occupancy was issued in favour of Adeleke University by the Osun State Government.
"The university is aware that an alleged trespass which is a civil wrong can only be addressed in a court of competent justification and not with the threat of Nigerian Army or the press as claimed by Oshun Ceramic Industries Limited.
"Oshun Ceramics Industries Limited cannot use the Nigerian Army; Nigeria Police or newspapers companies to result to self-help and take the laws into their own hands."
The Vice Chancellor of the Adeleke University, Prof. Ekundayo Alao, when contacted on the telephone said the case over the ownership of the land was in court because the company was claiming ownership of the land after the university had completed construction work.
He said the university decided to also alert the police so that the police would be aware of the plan of the management of the company to carry out an unlawful act and to prevent them from taking the law into their own hands. (Punch)