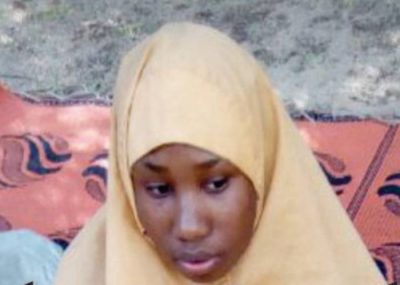 Leah Sharibu, the only Christian girl still being held captive by Boko Haram insurgents among those abducted at the Government Girls Science and Technical College, Dapchi, Yobe State, has made a plea to the Federal Government to set her free.
Sharibu made the plea in the audio message published on Monday by The Cable, an online news platform, with her recent picture in which she is wearing a brown hijab and sitting on a mat.
She called on President Muhammadu Buhari and others to free her from her abductors.
Sharibu said in the audio message: "I am Leah Sharibu, the girl that was abducted in GGSS Dapchi.
"I am calling on the government and people of goodwill to intervene to get me out of my current situation.
"I also plead to the members of the public to help my mother, my father, my younger brother and relatives.
"Kindly help me out of my predicament.
"I am begging you to treat me with compassion.
"I am calling on the government, particularly the President, to pity me and get me out of this serious situation.
"Thank you."
The parents of Sharibu, Nathan and Rebecca, have since confirmed that it was their daughter's voice in the audio message.
Nathan, who spoke with The Nation, said: "I can confirm to you that the voice that spoke is that of my daughter, Leah.
"It is her voice, no doubt.
"I am happy that I can hear my daughter speak.
"This has given me hope that she is alive.
"I am also happy to see her recent picture displayed.
"My request is the same with my daughter's.
"The government should play their part now by intensifying efforts to secure her freedom."
Reacting to the development, the President's Senior Special Assistant on Media and Publicity, Mallam Garba Shehu, said Nigeria's secret service, the Department of State Services, was analysing the audio.
In a tweet on his Twitter handle on Monday, Shehu said: "We are aware of the audio in circulation concerning the unfortunate situation of our daughter, Leah Sharibu. In dealing with terrorists, nothing is too trivial.
"The secret service is analysing the voice. Our reaction will follow the outcome of the investigation.
"For President Buhari, nothing will be spared in bringing all our girls home. He will not rest until all of them are freed."