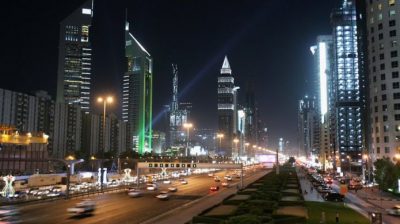 It is not uncommon to run up some hefty bills while on holiday, but one British tourist will be feeling particularly glum this week.
The unidentified man racked up tens of thousands of pounds in traffic fines in less than four hours after he rented a luxury supercar in Dubai.
He reportedly broke the speed limit on one of the city's busiest roads dozens of times in the early hours of Tuesday.
The total cost of the fines came to 175,000 dirhams (£36,000; $47,600).
The fines were issued after the tourist triggered every speed camera on the Sheikh Zayed Road and reached a top speed of 240 km/h (150mph), according to state-owned newspaper The National.
The owners of the dealership where the man rented the Lamborghini Huracán told the newspaper that the driver had left his passport as a guarantee.
They say they haven't yet claimed the car back because they may be liable to pay the fines.
"We can't pay this amount should the car be taken into impound, it's still with the tourist, parked at his hotel… and I won't be trying to take it back," dealership partner Faris Mohammed Iqbal said.
"Then who pays the money for the impound? We shouldn't do so for sure, it's his fault and he should pay that amount," he added.
According to local media, the fines were issued against the car's registered owner because the driver was a tourist.
This means he could be free to leave the country, although his lack of a passport could make that difficult.
"I was fearing that he may go to his embassy claiming that he lost his passport in order to get a new one then leave the country," Mr Iqbal told The National.
"I can't keep his passport with me for long". (BBC)