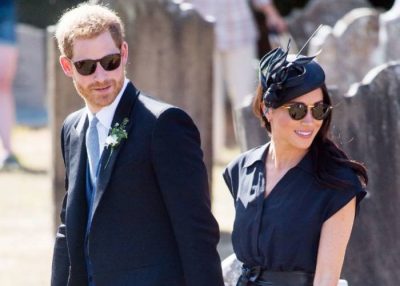 The Duchess of Sussex Meghan Markle has been invited to next month's Emmy Awards but it's believed she's "politely declined".
The 37-year-old former actress, who married Prince Harry in May was asked to attend the glamorous showbiz event to be held at the Microsoft Theater in Los Angeles.
It is assumed that the invite was a way of bidding farewell to her role in 'Suits' and life in Hollywood, but it's believed she's "politely declined" the invitation because the prestigious event does not fit with her new royal role.
A source told The Sun newspaper: "We had hoped Meghan would attend as a way of saying goodbye to her 'Suits' fans and colleagues.
"Show executives and NBC had offered Harry and her an invitation to celebrate with the biggest stars around, meet her showbiz friends and even present an honour. But Meghan is not attending."
The brunette beauty starred in the legal drama series as Rachel Zane from 2011 until 2017 when she announced that she was giving up her acting career to focus on more "important" causes.
Speaking around the time the pair revealed their engagement, Meghan said: "I just see it as a change… It's a new chapter, right? And also keep in mind I've been working on my show for seven years.
"So we were very, very fortunate to be able to have that sort of longevity on a series, and for me once we hit the 100 episode marker I thought, you know what, I have – I have ticked this box and I feel really proud of the work I have done there and now it's time to, as you said work – work as a team with – with you."
Meghan, who was born in Los Angeles, now lives at Kensington Palace in London with her husband Prince Harry and, since their wedding almost three months ago.
She's really thrown herself into her new role and has been carrying out duties all over the country. (NAN)