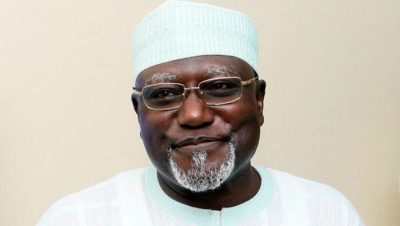 •Security chief gets access to wives
Former Department of State Services (DSS) Director-General Lawal Daura, who has been in custody since August 7 when he was sacked, has been allowed access to his two wives and some associates, The Nation learnt yesterday.
Daura got the push after DSS operatives blocked the National Assembly, on his directive. But the former security chief, according to one of his associates who visited him, insists that he acted in the national interest.
He also said the decision to deploy operatives in the National Assembly on July 24 was in conjunction with other security agencies.
Daura is being held in a safe house in Abuja, awaiting the Presidency's decision on the report of the Inspector-General of Police Ibrahim Idris who investigated his action.
It was learnt that President Muhammadu Buhari referred the IGP's report to Vice President Yemi Osinbajo for his input.
Some associates of the ex-DSS chief are pushing for Daura's reinstatement or the removal of National Security Adviser Babagana Monguno and Economic and Financial Crimes Commission (EFCC) Acting Chairman Ibrahim Magu.
A source, who spoke in confidence, said: "The former DG is still in a safe house but now with access to his wives, children and associates. He does not know what the presidency has for him. He is awaiting President Buhari's decision.
"His ultimate desire is to let the President and Nigerians hear his own side of what really transpired on August 7. He is desirous of freedom now. He wants to return to his house.
"There is, however, an uneasy calm in government circle on how the President will resolve the matter. I think he is awaiting a brief from the VP on IGP's report", a government source added: "All officials, including ministers, are avoiding talking on Daura to avoid being accused of taking sides.
"We are all divided on this case but we are keeping our opinions to ourselves. We do not know the disposition of the President."
A close associate of Daura has told PRNigeria (a news agency) that the ex-DG was neither given a query over any issue nor indicted in his handling of affairs of the service until his sack.
The close associate, who pleaded not to be named, said Daura insisted that he "took all actions in national interest through a collective responsibility, including involvement of principal officers of sister agencies even though he promised not to disclose on whose authority he acted to lay the siege to the National Assembly.
The source said: "While the former DSS boss has not officially handed over up till now, his house both in Asokoro and Gwarinpa have been thoroughly searched and nothing incriminating was found, and all items found, including necklace, praying mat, CDs, ATM card, women bags, documents and receipts have been duly returned to him."
"When he was invited by the then Acting President Yemi Osinbajo for the security briefing, he quickly rushed out and left some of his personal belongings, including phones in the office."
According to the source, Daura felt demoralised after being tagged a mole of the opposition elements. (The Nation)