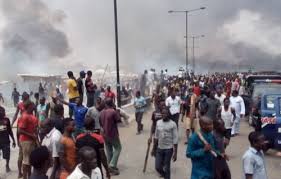 One man was reportedly killed while several others were injured in a bloody clash between rival gangs of miscreants at Ketu Market in Lagos on Monday.
A witness, simply identified as Musiliu, disclosed that the clash followed a disagreement between two groups of hemp smoking miscreants over the death of a member after heavy doses of marijuana.
"What happened was some guys smoking Indian hemp in the market were fighting among themselves over the death of someone whom they gave an overdose of the hemp.
"Afterwards, the miscreants were seen carrying the corpse about in the market chanting war songs and destroying anything on sight. I think that was when the policemen were called to intervene.
"The police detachment from Ketu Police Station came and started shooting sporadically in the market while the miscreants were also seen facing them in spite of the shooting.
"The police later went back to reinforce and that caused a lot of trouble as the market people started running helter skelter in order not to be caught up in the crisis, " the witness said.
Chioma, another witness, said that the trouble started when the policemen were trying to repel an attack by the miscreants.
"We are tired of these jobless youths coming to Ketu to smoke Indian hemp in the market. They are causing trouble here in this market.
"It's been long they have been smoking here causing trouble for us in the market. The trouble today started with them, they are attacking those policemen that came to restore peace in the market.
"I think the policemen are not happy with their effrontery at repelling them, so the policemen went for reinforcement.
"Things got worse as the policemen came back to the market, shooting sporadically into the air while people run for dear lives,"she said.
Speaking on the riot, Spokesman for the Lagos State Police Command, Choke Oti, said normalcy has been restored in the area.
"Our men are there doing the needful. The police is proactive and we have been able to put the situation under control.
"The Lagos State Police Command will not relent until perpetrators are brought to book. The area is presently under survellance," Oti said.