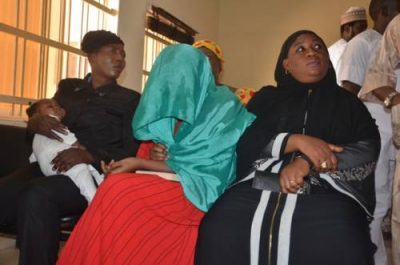 Maryam Sanda, the Abuja-based woman alleged to have murdered her husband, Bilyamin Bello, in 2017, has been delivered of a baby boy.
When SaharaReporters reached out to a source in the late Bello's family to confirm the information, the source said he was unaware and asked to be allowed not to utter any other word.
However, SaharaReporters understands that a low-key naming ceremony will hold on Tuesday August 14, 2018, meaning the baby was born last Tuesday, August 7, 2018.
Maryam — daughter of Maimuna Aliyu, the former Executive Director of Aso Savings and Loans Limited, whose nomination to the board of ICPC was withdrawn by Vice President Yemi Osinbajo following corruption allegations — was arrested after allegedly stabbing her husband to death in the neck, chest and genital area on November 18, 2017 over alleged infidelity.
She was said to have rushed him to a hospital where he gave up the ghost.
The Federal Capital Territory (FCT) Police Command then filed criminal charges of culpable homicide against Sanda, saying the alleged killing was premeditated and, as such, should be punished by death.
She was the nursing mother of a six-month-old baby girl at the time — a basis for which Joseph Daudu, her lawyer, initially tried to secure bail for her, but Yusuf Halilu, judge of a High Court in Jabi, Abuja, would have none of it.
Therefore, the accused was remanded at Suleja Prisons, although her brother and her mother, who were accused of tampering with evidence, were released on bail.
Maryam was finally granted bail in March 2018 after the court received medical reports confirming her pregnancy and illness.
Bello, her late husband, is the nephew of Bello Haliru, former Chairman of the Peoples Democratic Party (PDP). (SaharaReporters)