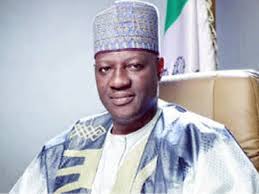 Mr. Abdullahi Danbaba, the Special Assistant on Non-Governmental Affairs to Governor Abdulfatah Ahmed of Kwara State, has resigned his appointment to enable him stay in the All Progressives Congress.
Danbaba announced his resignation in a letter obtained by the News Agency of Nigeria in Ilorin on Sunday, which was addressed to Governor Ahmed through the Secretary to the State Government.
According to him, the decision to resign the appointment is due to extensive and heart-to-heart consultation with the people of his constituency, coupled with the issue created by the recent political re-alignment in the state and the country at large.
He, however, expressed gratitude to the governor and President of the Senate Bukola Saraki for the opportunity offered him to serve the people of Kwara.
NAN reports that Danbaba's resignation has brought the number of aides that had disengaged from the service of the state government to two.
He hailed from Kaiama Local Government area in the North Senatorial District of Kwara state.
Speaking with NAN, Danbaba said his decision was borne out of the recent political re-alignment that saw Bukola Saraki-led political leadership in the state defected from the All Progressives Congress (APC) to the People Democratic Party.
"As a result of that political development, the people of my constituency in Kaiama local government felt they would not go with Saraki any longer because they have suffered protractedly lack of infrastructure development.
"And as a result, they would not toe the path of Saraki and I have consulted widely with my people and in view of the fact that the community suffered for a long period of time, I should also disengage from this government and come home and join the people's party; that is the APC", he said.
He lamented that the community had been cut off from the state as the three major roads that linked the community with other parts of the country are in pitiable condition.
He explained that the people of the area were staunch supporters of President Muhammadu Buhari throughout his political foray.
"Buhari since his political foray has been consistently winning Kaiama local government.
"He won in 2003 as the ANPP Presidential Candidate, in 2007 as ANPP candidate again, He won only in Kaiama; in 2011, he won as CPC and 2015 as APC candidate.
"This is because we believe in his leadership; we believe he could provide effective leadership to the nation," he said.
Danbaba also applauded the Social Investment Programmes of the Federal Government, saying Kaiama had benefitted tremendously from the scheme.
(NAN)