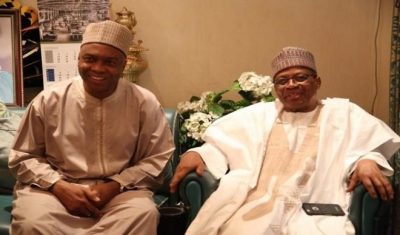 Senate President Bukola Saraki, has arrived Minna, capital of Niger State to hold a private meeting with the former military President Ibrahim Babangida.
The meeting is taking place at the Hilltop residence, of the former military ruler. This is coming shortly after Saraki addressed a World Press Conference where he commended Osinbajo for sacking the DSS Boss and assuring that NASS was ready to reconvene over INEC Budget.
NAN reports that Saraki landed at Minna International Airport at about 4.10 PM and drove straight to the hilltop home of the reclusive former leader.
It was not clear whether Saraki came to discuss his presidential ambition with Babangida.
At a press Conference today, he sidestepped the question. But he did not outrightly deny nursing the ambition.
He said he would answer the question on another day.
"We are here today about the democracy of this country, and that is what is important to me and to all of us that are here.
"I think when the time is right I will talk on your issue but today, we are talking about democracy in Nigeria, to defend the rule of law," he said.
On whether or not he would relinquish the position of Senate Presidency which he was 'given' under the All Progressives Congress (APC), Saraki stressed that he was not given the position but was elected by members.
He said that the Constitution allows any member of the Senate to stand for election as the President of the Senate irrespective of the person's party.
"I was not given the position as senate president. I was elected by members," he said.