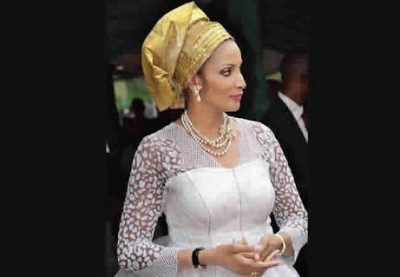 The family of late Chief Odumegwu Ojukwu has vowed not to support wife of the Igbo leader, Bianca even if she emerged the candidate of the All Progressives Grand Alliance, APGA, ahead of the 2019 general elections.
According to them, Bianca was not from Anambra, and cannot lead the people of Anambra South senatorial district.
They said, the woman, who is originally from Ngwo, Enugu State by birth, can decide to remarry tomorrow.
Speaking to newsmen, Dr. Ike Ojukwu, who is one of the directors of Ojukwu Transport Company Limited, OTL, said it was wrong to allow a woman from Ngwo in Enugu State to represent Anambra South Senatorial District.
DAILY POST reported last week that Bianca joined the race for the Anambra South senatorial district on the platform of APGA.
Ike said, "Is she from Nnewi? She is from Ngwo in Enugu State. I would prefer someone who is a son of the soil, and because I come from Nnewi, I would like an Nnewi indigene to represent us."
Also speaking on the matter, Emeka Odimegwu Ojukwu Jnr said, "She is apparently coming out on the platform of APGA and that is APGA's business.
"They can decide on whoever they want to bring out. That should not be my business but I find it curious that they want somebody from Enugu State to represent us in Anambra South.
"This is a young woman, who was supposedly married to my late father. A young woman who could remarry tomorrow maybe from Abia State or later from Sokoto State.
"And they want her to represent us. I wonder if there are no other people in Anambra South, who can represent us.
"Has anybody asked Odimegwu household whether we believe in her to represent us? This is a woman we don't interact with. She doesn't talk to us. She can't have access to our property She can't cross our gate in the village.
"She doesn't associate with the members of the family.
"There are certain questions that should have been asked before moving in that particular direction.
"Like I said, APGA is free to field whoever they want to field. I know that APC is trying to field a very credible candidate and when we get to the field of justice we will see what happens."
On his party, a legal practitioner Chief Debe Odimegwu Ojukwu, said, "As a lawyer, I would say no. why I said no is that there are so many marriages, even when you look at Nollywood, there are many marriages everyday but that does not make it legal.
"Why I am arguing this is because there was a woman my father married in a court, and that marriage was never nullified, and my training as a lawyer tells me that when there is a subsisting marriage, subsequent marriage or attempt at marriage becomes null and void."