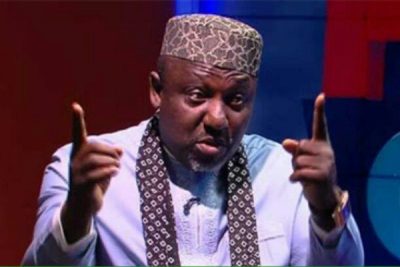 Governor Rochas Okorocha of Imo State has denied replacing his son-in-law, Uche Nwosu, with the Secretary to the State Government (SSG), Mr. George Eche, as his preferred successor in 2019.
DAILY POST gathered that Mr. Eche allegedly got the governor's nod to obtain interest and nomination form to contest for the same governorship seat with Nwosu under the All Progressives Congress, APC.
But a press statement by Governor Okorocha's Chief Press Secretary, Sam Onwuemeodo, insisted that the governor was not aware of the SSG's gubernatorial aspiration.
According to the statement "if Mr. Eche is actually contesting the governorship, he is doing so as an Imo man or as a Nigerian exercising his constitutional rights and that has nothing to do with the governor.
"Before now, what Mr. Eche had told the governor was that he was going to contest the House of Representatives for Aboh Mbaise/Ngor Okpala Federal Constituency, and if he has changed his mind for another position, the governor does not know.
"It is also important to advise Mr. Eche to stop further dropping of the governor's name. If he has decided to contest for the governorship of thes, he should do so without dropping the governor's name."
On whether he is under any pressure to drop Nwosu for another aspirant, Okorocha noted in the statement, "for the sake of emphasis, the governor is not under any pressure over the governorship bid of Chief Uche Nwosu.
"Nwosu has collected his nomination forms, and will face APC delegates for the primary and if he wins the primary, he will face Imo electorate in the election proper. And if Imo people elect him to be their governor, so shall it be.
"That is to say, Uche Nwosu's fate over the governorship of the state will be decided by the Almighty God first, then APC delegates for the primary and Imo people at the main election. So, the issue of the governor being under pressure over Nwosu's governorship aspiration is neither here nor there."