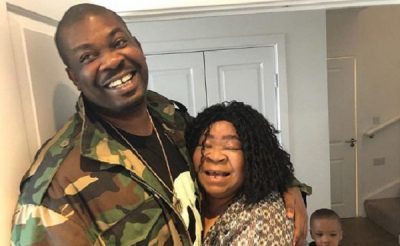 As persistent as some men are in in fleeing from commitment in relationships, so are so African mothers when it comes to trying to get their children to settle down and birth grandchildren.
It is no doubt the strong bond that exists between Nigerian record producer, Michael Collins Ajereh popularly known as Don Jazzy. From flaunting her on social media to sharing beautiful stories about her, it is all too beautiful to watch.
Well, he has melted hearts on social media with yet another adorable photo of himself with his mum. The captioned that followed however, is what has got people laughing. According to his post, his mum revealed she had found him a wife and the news triggered his need to run.
In the photo, the mum is seen clinging to him as he attempts to run, with both of them laughing really hard. He captioned the photo:"My mum was like "come here I have found a wife for you". Normal shy me I wanted to take offff . She grabbed me so tight. Lol Love you mum. @indianpicolo"
https://www.instagram.com/p/BnQ9rashlcm/
Don Jazzy is one among many Nigerian celebrities who cherish their family and never hesitate to let the world know. From gifting them with expensive things to things as simple as flaunting them social media, the bond shared is very clear to see.