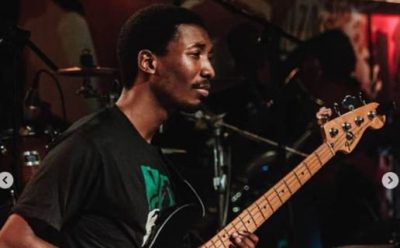 Femi Kuti's son, Made, has made his debut as a member of his father's Positive Force band.
Made, who attended music school in the UK, performed alongside his father at the New Afrika Shrine.
"Always awesome playing alongside my son Omorinmade," the older Kuti wrote on Instagram where he shared a clip of their performance.
Made, grandson of Afrobeat progenitor Fela, describing his performance, said: "Another night of #maximumenergy at the shrine last Thursday! A great debut as an official positive force member."
By joining the Positive Force band, Made his following the footsteps of his father.
Femi's career in music started when he began playing in Fela's Egypt 80 band, but by 1986, he launched the Positive Force band after falling out with his father.
Carlos Moore, Fela's authorised biographer, described the estrangement this way: "[Femi] a composer in his own right, the budding musician was on his own journey of creative self-affirmation; father and son no longer saw eye to eye on the most basic issue – music. In 1986, Femi walked away from his ten-year membership in Fela's band, and set up his own Positive Force; father and son would remain estranged for five years."
Subsequent to the parting of ways, Kuti decided to leave Nigeria to make his name abroad.
"I was making money outside here. Nobody wanted to watch my concert here," he once told TheCable Lifestyle.
"I played 'wonder-wonder'… and even when I did 'wonder-wonder' my father was alive – they gave credit to him that he must have written it for me."
After his father's death, Kuti released 'Beng Beng Beng', which became an instant hit. (Lifestyle)