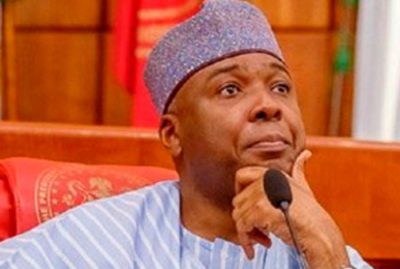 Senate President Bukola Saraki says the major thrust of his presidential aspiration is to unite the nation and set it on the path of sustainable economic growth.
Saraki made this known while addressing Peoples Democratic Party (PDP) leaders and members in Enugu on Thursday.
Speaking at the party's secretariat, Saraki said Nigeria needs a president that will unite the country.
"It takes a politician who knows the problems of the masses to bring solution and unity to the people," he said.
He said Nigerians are currently facing difficult times with the number of unemployed rising daily and that most families could not feed well.
"I am here to tell you that we have a project. The country is not as it was three years ago. We are all concerned about the insecurity in the land, the unemployment and hunger in the country," he said.
"Many youths today do not have any job and the future is not okay for them and we do not have time to continue to wait and things continue to deteriorate."
According to Saraki, "for me and us in the national assembly, it is not for personal ambition, we have continued to fight for the right of the people, for justice and freedom in this democracy.
"We are fighting for people to be able to exercise and express their views and opinions without any form of intimidation or oppression.
"We have gone through a lot, I and your son, Ike Ekweremadu, since we have decided to fight for what is right".
Saraki urged the people of Enugu south-east to stand by him as he plans to change the leadership of the executive.
"A president that understands the issues facing Nigerians, a president that will unite the whole country, that will create jobs and identify with the youths in their aspirations.
"Without unity and working together we cannot build a progressive nation,'' he said.
The senate president said he would create a conducive environment for innovation and businesses to thrive in the country, especially among enterprising youths within the south-east. (NAN)