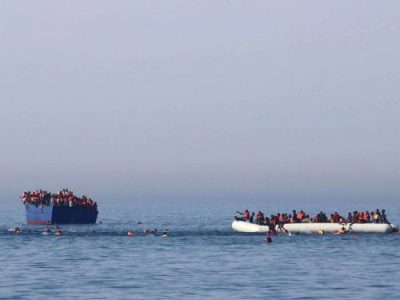 More than 100 migrants, including at least 20 children, died when two boats sank off the coast of Libya early this month, according to Doctors without Borders (MSF), citing survivors.
The witnesses told MSF that two inflatable boats had left the Libyan coast on September 1, each with 160 people on board, the medical charity said in a statement.
The migrants were from Sudan, Mali, Niger, Cameroon, Ghana, Libya, Algeria and Egypt, MSF said.
According to a survivor, the motor broke down on one boat while the other continued until it "began to deflate… there were 165 adults and 20 children on board".
As the boat began to sink, "few passengers had life jackets or knew how to swim, only those who held onto the hull of the boat managed to survive," said the witness to the tragedy.
There were only 55 survivors, the source added.
On September 2, the Libyan coastguard brought 276 people to the port of Khoms, among whom were the survivors of this sinking.
The group was transferred to a detention centre under the control of the Libyan authorities, MSF said.
MSF, which treated the survivors, said there were pregnant women, children and even babies. Some had suffered burns from escaped fuel, others had caught pneumonia from staying so long in the water.
Some had burns over 75 per cent of their body, said Jan Defransciscis, an MSF nurse who works in Misrate, Libya. (AFP)