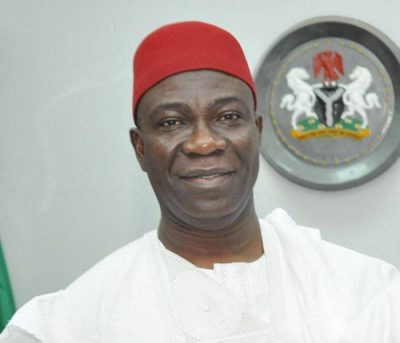 The senator representing Enugu west constituency, Dr Ike Ekweremadu has on Tuesday declared his intension to represent his constituency for the fifth time in the senate.
Ekweremadu who disclosed this in a statement on Tuesday morning, averred that he was persuaded by his people to return to the senate.
"My people, the good people of Enugu West Senatorial District, including the Enugu West Peoples Assembly, Members of the National Assembly, Council Chairmen, members of the Enugu State Executive Council, Enugu State Chapter of Ohanaeze Ndigbo, leaders of the PDP from Enugu West, among others gave me a surprise on Sunday.
"They presented to me the PDP nomination form for the Senate, which they purchased for me, requesting that I return to the Senate in 2019.
"My people, my primary employers have spoken. I have no choice than to humbly accept to run for the Senate again", he said.
Recall that the Deputy Senate President had since May 2003 represented his people when Chimaroke Nnamani was then governor of Enugu state. He retained the seat in 2007 when Sullivan Chime on 29 May 2007 took over from Chimaroke. Sullivan served for two terms before handing over to Ifeanyi Ugwuanyi.
Numerically Ekweremadu has served for fifteen (15) consecutive years.
However, startled with the nomination form purchased by his people, Ekweremadu opined that "Instructively, only a Few weeks ago, I reflected on my past engagements with the people of Enugu West and I was satisfied that, by the grace of God, we were able to make so many improvements in the lives of our people.
"I reflected on my next move and the available options. One option is to come back to you in Enugu and run my Foundation, which will give me opportunity to mentor young men and women in leadership. The second is probably to go to a university and take a fulltime academic job and also try to mentor young people in school. And behold my people came calling.
"My people, my primary employers have spoken. I have no choice than to humbly accept to run for the Senate again.
"Pointing on pure democratic principles and political inclusiveness Dr Ekweremadu stated that "Nevertheless, I believe that the beauty of democracy is the enlargement of the political space in which everybody is free to participate, bring and exchange ideas, and disagree in order to agree. Just yesterday, I got a call from a man who introduced himself as an engineer from Achi, but lives in Jigawa.
"He later came with his family to tell me that he wanted to run for the Senate in Enugu West. I congratulated him and offered to help purchase his nomination form. But he told me he had already bought his form. He was quite surprised when I offered to buy form for him.
"But it has always been my philosophy to help nurture the opposition, for as far as I am concerned, all power belongs to God and we should never try to reduce the political space.
"We must allow and indeed encourage other people to participate."