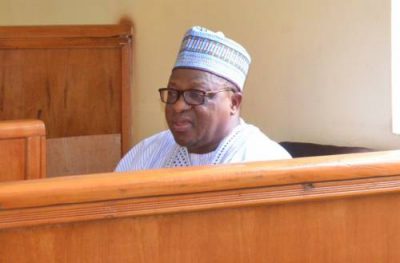 Supporters of Joshua Dariye, the imprisoned former Governor of Plateau State, are claiming he has purchased his election forms to contest for a seat in the National Assembly in the 2019 elections.
According to a post on Facebook by one Monday Shadrack Kopmut, who is apparently a Dariye fan, the former Governor has expressed his interest to contest for a seat in the Senate.
The post indicated Dariye's interest to contest on the platform of the All Progressives Congress (APC) for Plateau Central District.
Kopmut posted pictures of a form purportedly filled by Dariye, which contained his personal details, as well as phone numbers of how he could be contacted.
The post read: "Just to notify all [teeming] supporters of our amiable Senator Chief Dr Joshua C. Dariye, that the people's senator has purchase & [filled] the APC nominations & declaration of interest to contest in the forthcoming APC primary election & 2019 general election to represent the good people of Plateau Central in the Ninth Assembly."
However, when SaharaReporters contacted the phone numbers left on the form, supposedly belonging to Hauwa Dimka, the calls were initially ignored and later rejected. A text message to the number was not responded to as well.
Kopmut's post generated numerous comments from Plateau indigenes, many of them condemning him for supporting a man imprisoned for corruption.
To one of such accusations, Kopmut replied: "He has since filed an appeal in a competent court of law against the ruling."
In 2007, the Economic and Financial Crimes Commission (EFCC) charged and arraigned Dariye on a 23-count charge bothering on money laundering.
He was accused of diverting N1.126bn from Plateau Government's ecological funds.
In June 2018, a Federal Capital Territory (FCT) High Court sentenced the serving senator to 14 years in prison.
Justice Adebukola Banjoko, the presiding judge, sentenced him to two-year and 14-year jail terms to be served concurrently without an option of fine. (SaharaReporters)