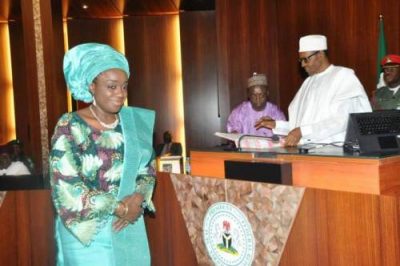 The leadership of THE National Union of Nigerian Students (NUNS) has called on the Economic and Financial CrimeS Commission (EFCC) to arrest the ex-finance minister, Kemi Adeosun over her forged National Youth Service Corps (NYSC) exemption certificate.
NUNS President Salahudeen A. Lukman, in a statement yesterday, also called for the arrest of the Director General of the NYSC under whom the forged certificate was issued.
"It is highly embarrassing that an agency of government as exceptional as NYSC could be so lose, corrupt and uncoordinated to the extent that her certificate could be sold and forged. The Federal Government must as a matter of urgency curb all corrupt practices in the scheme. It is our resolve to pursue this matter to the latter to assist Mr President's anti-corruption fight aimed at creating sanity in the public service.
"While waiting patiently to see EFCC do its work on this subject matter on or before the next seven working days, the union shall not hesitate to employ other legitimate means under law to ensure the alleged forger and her accomplice in NYSC face the wrath of the law. We are all equal before the law, No superiority just as ignorance is not an excuse in court of law," he said