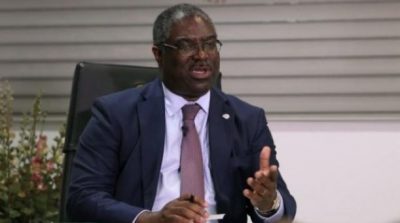 Tunde Fowler, chairman of Federal Inland Revenue Service (FIRS), says the service will soon go after the bank accounts of defaulting taxpayers who are billonaires.
Fowler, who disclosed this at a stakeholders' meeting in Lagos, said most of such taxpayers, have between N1bn and N5bn in their accounts.
He said such individuals have no taxpayer identification number (TIN) while those who have TIN have not filed any tax returns as taxpayers.
"What we have done is what we call 'substitution' which also is in our laws which empowers us to appoint the banks as collection agents for tax," he said.
"So, all these ones of TIN and no pay and no TIN and no pay, to the total of 6772 will have their accounts frozen or put under substitution pending when they come forward. First, they refused to come forward in 2016, they refused to come forward under VAT and are still operating here.
"So, we are putting them under notice that it is their civic responsibility to pay tax and to file returns on these accounts."
Fowler explained that FIRS had done a thorough analysis of all businesses, partnerships, corporate accounts that have a minimum turnover of N1 billion per annum for the past three years.
"First of all, the law states clearly that before you open a corporate account, part of the opening documentation is the tax I.D. From the 23 banks, we have analysed so far, we have 31,395 records, out of which effectively minus duplications we had 18,602," he said.
"We broke those into three categories: Those that have TIN tax I.D, those that don't have no TIN and of course no TIN no pay and those that have TIN and have not even paid anything.
"So, on a minimum, every company or business included here over the last three years have had a banking turnover of N3 billion and above. Some of them have had banking turnover of over N5 billion and have not paid one kobo in taxes. Now the total number of TIN and no pay is 6772.
"So, if someone is good in mathematics and you take the minimum level of N3 billion multiply by 409 and they are operating within our society and economy and do not remit or make any tax"" payment."
Paraphrasing Wole Soyinka's famous pithy quotation of wasted generation, Fowler said this generation should not repeat the literary scholar's statement by their conduct: "I plead with the banks to support us in supporting us, you are supporting Nigeria. In supporting Nigeria, you are supporting all Nigerians and those who have chosen Nigeria as home. And most of all, you are supporting a future that we can leave behind for the upcoming youth of Nigeria.
"I remember this when we were growing up a statement made by Wole Soyinka that our generation is a wasted generation. That (the statement) has remained in my mind for many years. Wole Soyinka is still alive. His generation is a generation of 80s and above. Let us not look back and say also our generation has not left any value behind. I think it is time for us to change."
He noted that FIRS is also paying closer attention to audit.
"We have started a comprehensive Audit exercise that involves both national and regional Audits… because we got to a position where we found out that majority of the major organizations that were allowed to do self-assessment, do not truthfully declare or pay the taxes that were due," he said.
"To date we have raised assessment of over N805 billion from 1324 National Audits out of which 499 (taxpayers) have N219 billion.
"N219 billion, it can do a lot of things. It can provide certainly a lot more infrastructure, healthcare and educational facilities. These monies that are supposed to go into the Federation Account are shared between Federal, Local and State governments. So, every state can get an additional 1 billion from such monies, hopefully if you vote right, that governor, that governor would deploy it to the right place."