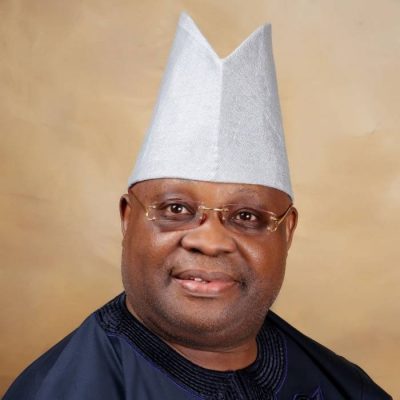 The candidate of the Peoples Democratic Party, Ademola Adeleke, has explained why he was absent at the 2018 Osun State governorship debate which held in Osogbo, the state capital on Sunday.
Adeleke's seat was empty throughout the two-hour debate.
He said he did not refuse to show up as widely believed, but was "held up by the electorate in the places where he had gone to campaign on Sunday."
Adeleke was one of the five candidates picked and invited for the debate which featured the All Progressive Congress candidate, Gboyega Oyetola; ADP candidate, Moshood Adeoti, ADC candidate, Fatai Akinbade and SDP candidate, Iyiola Omisore.
Speaking to newsmen on the phone on Sunday nght, the publicity director of the Adeleke campaign organisation, Olawale Rasheed, said while they were on their way to Osogbo, a community where they had gone to campaign blocked the highway.
He said they (community) had been marginalised all these years and that there had not been developments in their area.
"To our surprise, while we tried to skip the small towns and villages as we made efforts to meet up, they started trooping on the road; As I am talking to you now, we are just entering Osogbo," Rasheed explained.
"We did the same thing at Ikirun, trying to avoid some villages, then we had a backlash from the voters, they insisted that they wanted to hear the man (Adeleke) personally speak to them.
"The last village that we attended at Ife East, they were complaining that they had had no light for years, they trooped to the road and blocked our path and this was around 7.30 p.m.
"What we did was to send a message to a correspondent of Channels, and later I sent a message to Seun Okinbaloye (Channels presenter). We are just entering Osogbo now as I speak to you.
"It is not that we are intent on not attending, no. We need to reach the voters and need their votes. And when they block the road and they say you can't go, what do you do?"
He added that Adeleke made efforts to reach the people, "given the fact that reaching the people was fundamental in defeating an incumbent government."