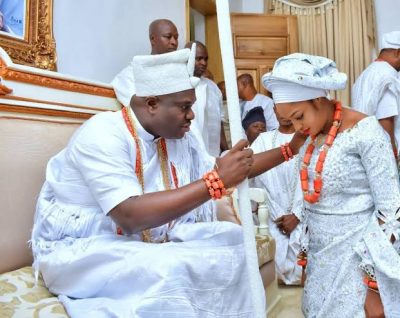 The whole world has been agog since the news broke about the Yeyeluwa's marriage to His Imperial Majesty, the Oonirisa Adimula of Ile-Ife, Oba Adeyeye Enitan Babatunde Ogunwusi, Ojaja II.
Until this union was sealed, little was known about the Prophetess and Evangelist previously, who was the Head of her own Ministry known as the EN-Heralds Ministry, which is an interdenominal ministry, a very popular one at that in Akure, Ondo State.
She began her public ministry call at the your age of 18, but became a full time Evangelist at 21, October 19, 2011 t I be more precise, so yesterday Friday, October 19, 2018 would have been her 7th year of call to bar or should we say call to the service of God.
Olori Silekunonla Naomi Moronke Oluwaseyi now Ogunwusi was born April 15, 1993 so she's 25 years old going 26 now.
She apparently not totally confirmed though, left AAUA, that's Adekunle Ajasin University, Akungba-Akoko, Akure, Ondo State at 100 level, that's in her first year to pursue her call.
She has about 6 other siblings. It's very likely that now that she is married and her sphere of jurisdiction has changed, most likely that her mom Pastor Funmilayo Grace Oluwaseyi would take over the running of her thriving ministry, since she can't continue to run it by herself anymore, especially now that she has become a full-fledged, partner custodian of the Yoruba tradition and culture around the world. What that actually means is that she cannot be combining the dictates of traditional religion, with Christianity!!!
Although again, with the Ooni's assertion that all the religions, most especially that Christianity and Islam came from the Yoruba Traditional religion, maybe a combination, some sort of merging something of the 'chrislamherb' package, can be worked out!
According to the yet to be confirmed gist, Kabiyesi the Ooni of Ife actually met his now Olori only 9 months ago in February of 2018 to be more precise. It is said that the meeting point was in Ife, at the Ife resort developed by his imperial majesty.
Apparently, there had been a programme sort of, put together by the ministry of the renowned Iya Adura, Reverend Mother Esther Abimbola Ajayi, the founder of the UK based C & S, Love of Christ Generation Church, one of the fastest growing churches in the UK.
Rev. Mother Ajayi is a noted preacher of love across board, who wants the unity of all the white garment churches all over the world. She is a noted philanthropist also.
If what we hear is to be believed, then Reverend Mother Esther Ajayi might actually have introduced the Olori to the Arole Oodua, the Oonirisa Adimula, a his Imperial Majesty at the Ife resort programme and the rest, like they say is now history.
May nature most graciously, bless this union most abundantly with all types of blessings that's possible.