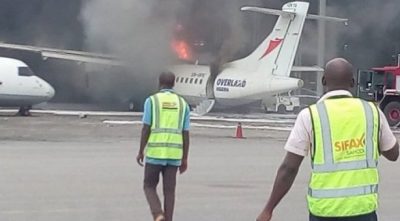 An aircraft belonging to Overland Airways ATR aircraft caught fire at the company's hangar at the Murtala Muhammed International Airport (MMIA) in Lagos on Friday.
The fire broke out as the aircraft was being serviced.
Henrietta Yakubu, spokeswoman of the Federal Airports Authority of Nigeria (FAAN), said no life was lost in the incident.
Passengers and other airport users were frightened when they saw smoke billowing from that side of the airport.
Fire fighters are still trying to curtail the inferno from spreading. (NAN)