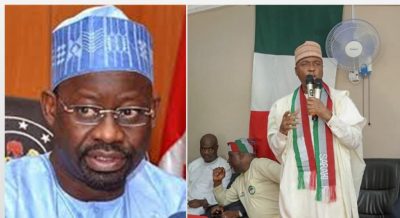 Governor of Gombe, Ibrahim Dankwambo has congratulated Atiku Abubakar for emerging as the flagbearer of the Peoples Democratic Party (PDP) for the 2019 presidential elections.
Atiku polled 1,532 votes beating Aminu Tambuwal who scored 693 and Senate President, Bukola Saraki, who got 317 votes.
A post by Dankwambo on Twitter read, "Congratulations to Former Vice President of Nigeria, His Excellency, Alhaji Atiku Abubakar on his emergence as the flag bearer of our great party, the People's Democratic Party. We are united under one Umbrella and we will work assiduously for our party's victory in 2019."
Saraki's statement reads, "Today is a great day for our party, PDP because it has shown what men and women of our party can do. Today has shown that the interest of our party and the Nigerian people is more important than our individual interests.
"I want to thank Governor Okowa for planning and organising this transparent, free and fair Presidential Primary and Convention.
"I congratulate our Presidential Candidate, Your Excellency, Alhaji Atiku Abubakar, for your victory. You have stayed on course over the years and truly, you deserve this victory.
"We always knew from Day 1 that only one candidate would emerge. On behalf of all the aspirants, I want to assure Alhaji Atiku Abubakar that we will work with you to ensure that come 2019, you emerge as Nigeria's next President."