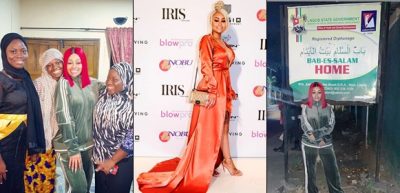 Reality TV star Blac Chyna has shared just how much she enjoyed the country and how he she cant just wait to visit Nigeria again. The former stripper who was in the country a few days ago for the launch of Dencia's Whitenicious cream has shared her experience visiting an orphanage home while here.
According to Chyna who got into a fight in Abuja, she can not wait to visit again.
She wrote;
'Visiting BAB-ES-SALAM Orphanage was a fulfilling experience in Lagos, Nigeria. It was amazing to see the apparent open hearts and to hear about the children's dreams. It left me filled with emotions, their excitement was an amazing feeling and a humbling experience.
I Can't wait to visit again.'