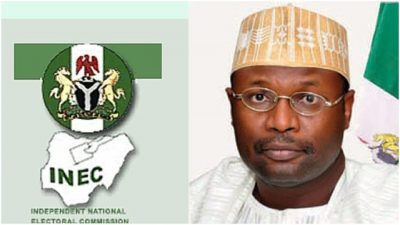 THE Independent National Electoral Commission (INEC) will deploy one million electoral officers for the 2019 elections, its chairman, Prof Mahmood Yakubu, said yesterday.
The election will cost the commission N85 bilion in providing logistics.
At a meeting with representatives of the National Union of Road Transport Workers (NURTW), Road Transport Employers Association of Nigeria (RTEAN) and National Association of Road Transport Owners (NARTO), Yakubu represented by Okechukwu Ibeamu, said the election officers would comprise some INEC workers and security agents
On logistics INEC's Head of Health Infrastructure Dr Amina Zakari said its cost was enormous in any election.
According to her, it will cost the commission at least N10 billion in logistics to conduct a single election.
She said its commission would use the Miilitary and Air Force for the election in difficult terrains.
Zakari said: "We have earmarked N85 billion for logistics for the 2019 general elections. For a two-day election, which is the least number of days to conduct election, it costs about N10 billion in logistics. You can imagine what will be involved if we have to take the elections in more than one day like the presidential separately, National Assembly and even the cost of conducting five elections separately.
"These costs exclude leasing of boats in the riverrine areas, additional gunboats for security, hiring helicopter for other areas affected by insurgency and difficult terrain.
"Moving of personnel and materials in those areas is very challenging and these must be done at the same time nationwide. It is worst because about two-third of the country's territory is covered by difficult terrain.
"The window for the deployment of electoral materials is too short especially as it must be delivered between 5.00am and 8.00am. You can imagine the enormity of the task, considering the size of the country, difficult terrain and poor road network where the elections have to be conducted.
"We are not even considering the supplementary elections that may come up, the run-off elections and the possible suspension of areas where violence may disrupt the poll which we normally suspend and reschedule.
"The logistic cost is really enormous and it will be good for the country to find a more cost efficient manner at which elections can be conducted," she said.
On the use of the military in difficult terrains, Zakari said: "Security is of paramount importance and if there is no violence, elections can be done seamlessly.
"The commission has also enlisted the services of the Air Force and the Navy for deployment especially to these difficult terrains. Recently, a Logistics Advisory Committee was set up with membership drawn from the commission, security agencies and other partners that will help us achieve a seamless transportation of the materials from the sea or airport to the polling stations.
"With over 120,000 Polling Units, the biggest challenge the commission will encounter is the Election Day logistics. Our problem will be transportation in terms of movement of electoral materials," she noted. (The Nation)