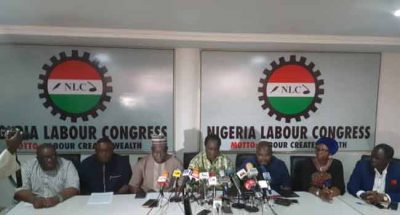 The organised labour union has called off the nationwide industrial action initially scheduled to commence on Tuesday to press home workers' demand for a new national minimum wage.
The National Chairman of the Nigeria Labour Congress, Ayuba Wabba, announced the suspension at the end of the last meeting of the tripartite committee set up to come up with the new minimum wage on Monday evening.
Wabba said the decision to suspend the action was reached after agreements were reached and documents signed.
"Having reached this position and agreements signed, the proposed strike action is hereby suspended," the labour leader said.
Wabba, however, refused to disclose the figure of the new minimum wage arrived at by the committee.
He said the figure would only be made public after the committee's report would have been presented to President Muhammadu Buhari by 4.15pm on Tuesday.
He, however, said only one figure would be presented to the President.
He thanked all their tripartite partners for their understanding while particularly appreciating the roles of the private sector.
The Chairman of the committee, Amma Pepple, expressed delight that their assignment had been concluded.
"I am happy to report to you that we have concluded our assignment and we will submit our report to the President by 4.15pm on Tuesday.
"We will reveal the figure at the presentation," she said.
The Secretary to the Government of the Federation, Boss Mustapha, thanked members of the committee for doing a wonderful job. He described the process as a long journey.
"The committee has worked assiduously to reach the conclusion," he said.
– PUNCH