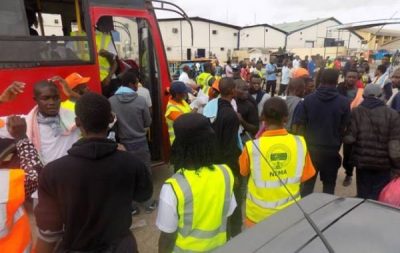 The National Emergency Management Agency (NEMA) has received another batch of 174 stranded Nigerians from Libya.
The returnees arrived at the Murtala Muhammed International Airport, Lagos at 1:10am on Friday.
Segun Afolayan, acting zonal coordinator of NEMA, south-west, said after profiling the returnees, they included 61 female adults, four female children and eight female infants.
Afolayan said there were also 91 male adults, six male children and four male infants, along with an unaccompanied male child, among the returnees.
Chukwudi Onyemechie, one of the returnees from Anambra state, said he was a successful auto tyres dealer at Ladipo Market, Lagos before he was fooled by the promise of a better life in Europe.
He said: "I was told that the journey would be by road but I never knew that it was a deadly and dangerous route.
"I entered Libyan town where I was taken to a camp controlled by Nigerians where I spent three months in detention.
"My trafficker organised my detention in order that I would be forced to pay him money. He asked me to pay some amount to a connection man who denied that I didn't pay and my trafficker claimed he settled the man and I had to double the amount.
"I left Nigeria in June 2017. I experienced unstable and dangerous life over there. After struggling to cross but unsuccessful, I was helped to get to IOM office in Libya, who helped me back to Nigeria today."
Another returnee, Kikelomo Ajasa, a mother of one from Ibadan, Oyo state, complained of racial discrimination in Libya.
She said: "I got to Libya with God as my saviour but the racial discrimination by the Libyans is too bad.
"If you're unfortunate to enter bus and sit beside a Libyan, throughout the journey, the Libyan will not want your body to touch his own and he will cover his noise throughout.
"Though some of them are very nice and good, majority, especially the youths, don't wish the blacks well."
Ajasa said she got a housemaid job where she was being paid 6,000 Dinars, equivalent to about N60, 000.
"If I want to send N20,000 to Nigeria, I must part with N40,000 or N50,000 before my family will get the N20,000. There is no banking system there.
"Nigerians who had settled down are the launderers. They have their Nigerian bank accounts.
"Once, we pay them there in dinars, we don't know how they transmit the money, but our families will receive what we agreed on their bank accounts here in Nigeria.
"I am not happy for the wasted years. If I had stayed back, I could have been more settled and successful," Ajasa lamented.