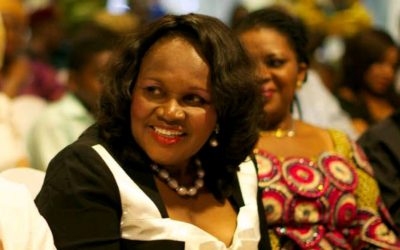 In a recent report by the Gates and Melinda Foundation, 41% of women in Nigeria are entrepreneurs, compared to only approximately 10% in the US and 5.7% in the UK. The report further shows that Nigeria has the highest percentage of female business owners in the world. While according to Global Entrepreneurship Monitoring's annual report, women outnumbered men in the entrepreneur space in countries like Ghana, Nigeria, and Zambia.
This trend is further emphasized by the reality that the average trader or store owner in Nigeria is more likely to be a woman than a man. Setting up a small business is more common for women in Nigeria than men. In some marketplace, there are more female traders than males.
For the pioneering female entrepreneurs in the country, the journey has been tough, but despite the rocky beginnings, their doggedness, dynamism, unparalleled energy and passion in the face of daunting odds, have made them remarkable role models for women and all classes of entrepreneurs across Africa.
On this week's edition of founder's profile, we take a look at one of Nigeria's finest female entrepreneurs, Dr. Mrs. Stella Chinyelu Okoli, Founder of Emzor Pharmaceutical, and a woman who has not only engrained her name and company on the minds of Nigerians, but also carved a space for herself in history as a businesswoman of repute.
Early Life and Background
Stella was born in the ancient city of Kano, Northern Nigeria, in 1944 to the family of Felix Ebelechukwu and Margaret Modebelu from Nnewi, Anambra State.
She started her formal education in 1954 at All Saints Primary School in the industrial city of Onitsha, before proceeding to complete her secondary school education in 1964 at Ogidi Girls Secondary School (Ogidi is the birthplace of literary icon, Chinua Achebe).
Stella proceeded to the University of Bradford in the United Kingdom from where she obtained a Bachelor's degree in Pharmacy. This academic achievement was followed by a M.Sc. in Biopharmaceutics which she obtained from the University of London, Chelsea College in 1971.
Stella started her career at the Middlesex Hospital as a Ward/ Clinical Pharmacist, and later had a brief stint as a Pharmacist at Boots Chemist, London.
On her return home to Nigeria, she worked at Massey Children Hospital, Lagos before she joined a pharmaceutical manufacturing company, Park Davies Nigeria Ltd (now Pharma-Deko Plc), as a medical representative and later as a sales manager.
Her venture into private business
In January 1977, Stella started Emzor Pharmaceutical with the initial name, Emzor Chemists Limited, as a small pharmacy retail shop in Shomolu, Lagos. The name was coined from her children's names (Emeka, Uzoma, and Edward). By 1981, Stella's entrepreneurial drive led her into the drug importation busines, where she imported both ethical and over the counter (OTC) drugs to meet the health needs of Nigerians. The small Emzor Chemist has since become one of the leading pharmaceutical companies in Nigeria, with over 50 products since its incorporation in 1984.
Ironically, when she floated the Emzor brand in 1977, not a few of her friends and colleagues wondered if she knew what she was getting herself into. They had wondered how she could survive the turbulent world of business, particularly manufacturing. But over 35 years down the line, Stella has not only proved the cynics wrong, but she has also emerged as one of Nigeria's women billionaires in the business world.
Challenges while starting her business
According to Stella, one of the major challenges she faced while starting her outfit was the unfavourable government policies at that time which favoured foreign multi-national companies to the detriment of local companies.
According to her:
"THERE HAVE BEEN POLICIES OVER THE YEARS THAT HAVE FAVOURED THE TRADING MULTI-NATIONALS, TO THE DETRIMENT AND DISADVANTAGE OF THOSE OF US WHO HAVE INVESTED IN THE DEVELOPMENT OF THE MANUFACTURING ASPECT OF THE INDUSTRY. THEY ARE FOREIGNERS AND COULD DIVEST, PULL OUT THEIR FUNDS OR GO BACK HOME TO THEIR COUNTRIES. I COULDN'T GO ANYWHERE, HENCE, I WAS FORCED TO DO THE BEST I COULD TO ENSURE THE QUALITY AND THE GROWTH OF THE INDUSTRY WAS MAINTAINED. WE JUST HAD TO DO OUR BEST THE ONLY WAY WE KNEW HOW."
She also identified double taxation, drug faking and unlawful importation of drugs into the country as major challenges faced over the years.
Her quest for knowledge
In her quest for growth and self-development, Stella attended several courses across the world, to broaden her knowledge and sharpen her leadership skill. Some of these include The Executive Management Programs for business owners at Harvard Business School, Boston (1997- 1999); implementing Strategic and Organisational Change at I.E.S.E. Business School, Barcelona Spain (1996); Chief Executive Program of the Lagos Business School.
She has also held several professional leadership positions which include Chairman of the Pharmaceutical Manufacturers Group of Manufacturers Association of Nigeria, member of Economic Summit of Nigeria and member of Health Matters Advisory Board of Nigeria. She served as a Non-Executive Director of Guaranty Trust Bank Plc from April 22, 2010, to July 24, 2014.
Other awards
She was awarded Doctor of Business Administration (Honoris Causa) by Nnamdi Azikiwe University, Awka.
She is a recipient of the Member Order of Niger (MON), and Officer Order of Niger (OON) awards from the President of the Federal Republic of Nigeria, among others from several local and international distinguished groups.
Philanthropic Gesture
After the unfortunate death of her son, Chike, in 2005, Stella started the Chike Okoli Foundation in 2006 as Non-Profit Organisation founded with the aim of fighting poverty and diseases by raising awareness on the Cardiovascular disease. She also runs the Chike Okoli Centre for Entrepreneurial Studies at Nnamdi Azikiwe University, Awka and has trained over 1,600 entrepreneurs/students in the science and spirit of entrepreneurship. It has also reached over 5,000,000 people across Nigeria on lifestyle interventions.
Personal Life
Dr. Stella married her late husband, Barr. Nnaemeka Okoli in 1970, with whom she had three children.
(Nairametrics)