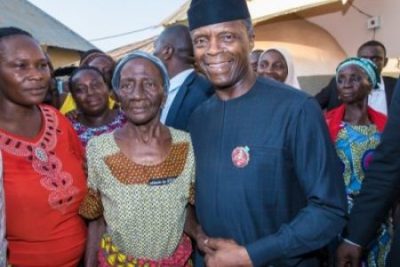 Vice President Yemi Osinbajo, on Tuesday commenced door-to-door campaign at Nyanya and Karu suburbs of the FCT, prompting residents to troop out chanting "Sai Baba''.
He took the campaign to door steps in support of the re-election of President Muhammadu Buhari in 2019 general election.
Osinbajo was given a rousing welcome as residents of the communities thronged the streets shouting "Sai Baba! Sai Baba!''.
He went from one corner of the community to another campaigning from house to house while excited supporters surged to follow him around.
Addressing an enthusiastic crowd at Karu, the VP bellowed APC! APC! APC! while the crowd chorused Next Level!, as many times as Osinbajo mentioned APC.
He then started with a song "We are going higher, higher; we are going higher, higher…"
He said he was very excited to be in the midst of the people.
"I am very happy to be here with you; I want to thank every one of you for the very warm welcome. All of us are going higher.
"I want you to believe that President Muhammadu Buhari is going to do even better.
"We have to create more jobs for all these young people; we have to give our market women credit so that they can do more business.
"We came to meet you where you are; to hear from you. This country will become better and better; by the grace of God. All of us who are here will prosper in this Nigeria.
"The only thing is that the government must not steal money; if the government does not steal the money, there will be enough for all us.
"That is why Buhari is the right president for us. I will appeal that you should vote him in the proper time."
Earlier at Nyanya, Osinbajo paid a courtesy visit to a community leader, Alhaji Saidu Ahmed.
He said he was in the community to assure them that Buhari would perform better if re-elected.
"Our country can feed all of us and we can find work for everybody because we have the money.
"So, I want you to do that. I want you all, everybody who is here, please, make sure that you vote for President Buhari in 2019.
"As you know, he's a truthful man, he's an honest man.
"Our money will be used for us. It will be used to build our roads.
"Our money will be used properly. It will not be stolen; so let us vote for the man who will use our money well," he said.
The All Progressives Congress (APC) had on November 18 inaugurated its campaign tagged `Next Level' for the 2019 polls.