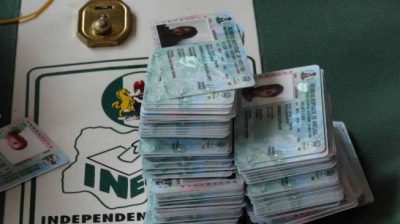 The Independent National Electoral Commission (INEC) on Monday announced the total number of voters in the country as over 84 million.
Mahmood Yakubu, INEC chairman, said the national voter register hit 84,004,084 after the continuous voter registration which ended in 2018.
The figure, which constitutes 42 percent of Nigeria's 198 million population, is 15.17 million more than the 68,833,476 voters who participated in the 2015 elections.
QUICK FACTS FROM THE NATIONAL VOTER REGISTER:
Lagos has highest number of voters with 6,570,291, followed by Kano which has 5,457,747 voters.
The voters in Lagos equals 65.3 percent of the voters in the south-east which is the least among the regions with 10,057,130 voters.
North-west region leads with 24 percent of the voters (20,158,100) followed by 19.39 percent in south-west (16,292,212). Other regional data are 11.9 percent of the voters (10,057,130) in south-east; 15.9 percent in south-south (12,841,279); 13.4 percent in north-east (11,289,293); and 15.9 percent in north-central (13, 366,070).
Youth – between 18 and 35 years – constitute the highest number of voters with 51.11 percent at 42,938,458 voters.
Below is the representation of the voters in all the 36 states and the FCT:
| S/N | STATES | NO OF VOTERS |
| --- | --- | --- |
| 1 | Abia | 1,932,892 |
| 2 | Adamawa | 1,973,083 |
| 3 | Akwa Ibom | 2,119,727 |
| 4 | Anambra | 2,447,996 |
| 5 | Bauchi | 2,462,843 |
| 6 | Bayelsa | 923,182 |
| 7 | Benue | 2,480,131 |
| 8 | Borno | 2,315,956 |
| 9 | Cross River | 1,527,289 |
| 10 | Delta | 2,845,274 |
| 11 | Ebonyi | 1,459,933 |
| 12 | Edo | 2,210,534 |
| 13 | Ekiti | 909,967 |
| 14 | Enugu | 1,944,016 |
| 15 | FCT | 1,344,856 |
| 16 | Gombe | 1,394,393 |
| 17 | Imo | 2,272,293 |
| 18 | Jigawa | 2,111,106 |
| 19 | Kaduna | 3,932,492 |
| 20 | Kano | 5,457,747 |
| 21 | Katsina | 3,230,230 |
| 22 | Kebbi | 1,806,231 |
| 23 | Kogi | 1,646,350 |
| 24 | Kwara | 1,406,457 |
| 25 | Lagos | 6,570,291 |
| 26 | Nasarawa | 1,617,786 |
| 27 | Niger | 2,390,035 |
| 28 | Ogun | 2,375,003 |
| 29 | Ondo | 1,822,346 |
| 30 | Osun | 1,680,498 |
| 31 | Oyo | 2,934,107 |
| 32 | Plateau | 2,480,455 |
| 33 | Rivers | 3,215,273 |
| 34 | Sokoto | 1,903,166 |
| 35 | Taraba | 1,777,105 |
| 36 | Yobe | 1,365,913 |
| 37 | Zamfara | 1,717,128 |
| | Total | 84,004,084 |
| | NEW VOTERS | 15,170,608 |
(The Cable)